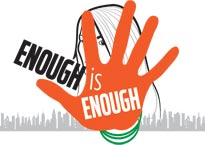 Police fired teargas shells and used water cannons as several hundreds of young students on Saturday marched towards Rashtrapati Bhavan for the second day demanding justice for the 23-year-old gang-rape victim.
A boy and a girl and a traffic policeman were injured as the police directed water jets and opened a volley of teargas shells that pushed them back a little even as some of the protesters braved the chill and water bottles and shoes at the policemen.
Window panes of a police van were smashed. One of the girls broke the glass window of a bus with her hands.
The police action came as 'negotiations' failed at the Raisina Hill leading to Rashtrapati Bhawan failed and the protesters, comprising largely young women and men, tried to breach the barricades to push towards the Rashtrapati Bhavan.
The protest spot resembled a battle zone with empty shells and wet roads. The area has been cordoned off and police reinforcements have been rushed to the Hill that divides the North and South Block, which houses the Prime Minister's Office.
Girl protesters alleged that policemen hit them with lathis and declared they will launch a sit-in in the area. Protests refused to disperse from the place.
As protests continued for the sixth day, former Army Chief V K Singh joined the demonstrators the at India Gate blaming "systemic collapse" for brutal rape of a young girl last Sunday in a moving bus.