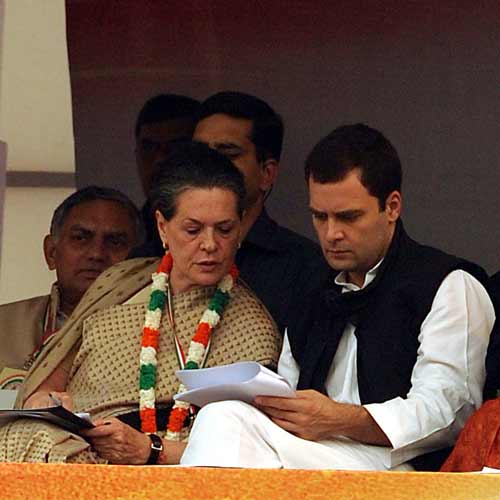 A Delhi court on Thursday issued summons to Congress chief Sonia Gandhi, vice-president Rahul Gandhi and four others in connection with the misappropriation of funds in Associated Journals Limited through Young India, a company owned by the Gandhi family. It is popularly referred to as the National Herald newspaper case.
Congress party treasurer Moti Lal Vohra, party general secretary Oscar Fernandes, Sam Pitroda and journalist Suman Dubey along with the Gandhis have been asked to appear before the court on August 7. Congress leaders said they would give a "vigorous and appropriate response in court".
The metropolitan magistrate at Patiala House court, Gomati Manocha, in her order said it "appears that Young India was in fact created as a sham or a cloak to convert public money to personal use or as a special purpose vehicle for acquiring control over Rs2,000 crore worth of assets of the Associated Journals Limited".
The court issued the summons while hearing a petition filed by BJP leader and former Union minister Subramanian Swamy in 2013. In his petition Swamy had accused the Gandhi family of cheating and criminal breach of trust by diverting Congress party's funds to the family-controlled Young India. He alleged that by just paying Rs50 lakh, Young India obtained the rights to recover Rs90.25 crore, which the AJL owed to the Congress party.
Swamy has also written to finance minister Arun Jaitley seeking an investigation under the Income Tax Act.
The National Herald newspaper was established in 1938 by Jawaharlal Nehru. It shut down in 2008.