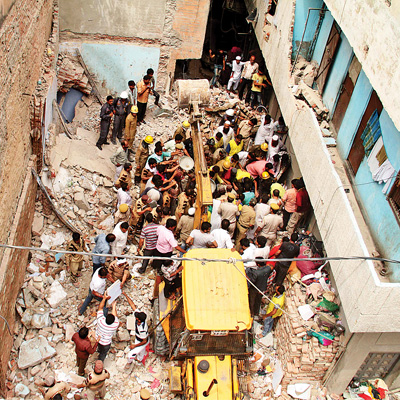 Ten people including five children were killed when a three storeyed building collapsed on Saturday morning in north Delhi's Inderlok area.
Two persons who were rescued from the debris are recovering in the hospital. "Ten people have died. Majority of them are children. It was an old building. Two injured are recovering in hospital," said Madhur Verma, depurty commissioner of police.
North Delhi Municipal Commission (NDMC) suspended two if its junior engineer level officers for allowing the adjacent plot holder to dig deep for constructing a basement which possibly triggered the collapse.
"NDMC commissioner has ordered an enquiry under the supervision of additional commissioner. Any irregularity on the part of the NDMC official will not go unpunished," said Yogendra Mann, official spokesperson of NDMC.
According to the sources, the building was 25 years old and three families were living in it at the time of collapse. At the time of accident all members of the three families were present in the building.
"It was 7:30 am, we were having tea at a roadside kisosk when we suddenly heard a loud noise. We saw the building coming down like a a pack of cards. Police were called immediately but due to conjested streets and narrow lanes, rescue operation started around 9 am," said Sanjeev Goel, a local and an eye witness.
According to NDMC officials, a notice was sent to the adjacent plot owner to stop construction but the owner did not pay head to notice and bribed the officials instead. "The building too was of a substandard construction and it was unauthorised. But digging for basement by the adjacent plot owner could be the possible reason behind this catastrophe."
Rescue team led by police, fire officials followed by NDMC and Delhi Disaster Management Authority (DDMA) officials took 9 people out of debris.
The remaining three were rescued by locals soon after the collapse. "Only two male members of the families have survived. Majority of the children were found dead on the spot. Only one reached hospital who succumbed to injuries. Both women died in the hospital," said another police official.
In its pre-monsoon survey, NDMC has identified around 140 structure which are unsafe to live in. "This area has plenty of unauthorised construction. We have marked around 140 structures in our pre-monsoon survey which are unsafe and are potential threats for the people living in them," said a NDMC official.