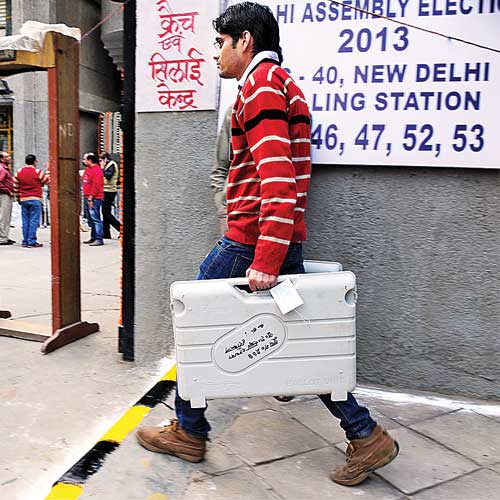 Delhi goes to polls on Wednesday and there is tension and expectation in the offices of all parties despite the show of bravado that they will romp home with a comfortable majority.
When the poll game started more than six weeks ago with the Election Commission announcing the dates for the elections, the BJP was in a disarray with no chief ministerial candidate, the newcomer AAP was seen as a political cipher and three-time chief minister Sheila Dikshit seemed to be sitting comfortably on her perch. But six weeks later, the BJP has regained much of the ground it seemed to have surrendered in the previous elections, and it is set to snatch victory from the Congress in a close contest. The main opposition party took some hard decisions including that of choosing Dr Harsh Vardhan over state BJP president Vijay Goel as its CM candidate.
The BJP in Delhi has benefited hugely from the campaign rallies of its PM candidate Narendra Modi. The Gujarat chief minister with his rustic satire and swagger turned out to be the crowds' favourite. No one in the BJP is complaining that Modi has overshadowed the local party campaigners, including senior leaders Rajnath Singh, Sushma Swaraj and Arun Jaitley, and even the party's CM candidate Harsh Vardhan because Modi is likely to be mascot of the party, and it is hoped that it would be a prelude to the Lok Sabha elections next year.
Arvind Kejriwal's Aam Aadmi Party has become a serious challenger in a number of seats, capable of causing an upset victory in a number of constituencies, including Dikshit's New Delhi seat where Kejriwal is one of the opponents which includes BJP veteran Vijender Gupta who is no pushover either.
The Delhi assembly election is then not going to be a local issue like in other states. It is being seen as a harbinger of things to come in the Lok Sabha polls.
Less than 24 hours before the polling, the election pomp and show on the streets came to an end but the war on social media, door to door visits, messages on the mobile phones, and a press conference kept the Congress and its fleet busy.
The Congress social media team took on the AAP and Arvind Kejriwal on Facebook and Twitter. Candidates and their supporters were all over the cyber space wooing people to vote for them.
Dikshit along with the party president JP Agarwal and the state in-charge Shakeel Ahmad also held a brief press conference in the party office. "Our party has worked very hard and the people of Delhi trust the Congress. We are confident that Delhi will give us another chance to serve her," said Dikshit.