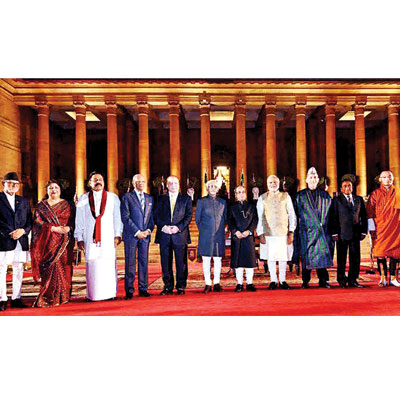 After an impressive diplomatic start with neighbours last week, Prime Minister Narendra Modi's foreign policy will be driven by economic growth, with focus on the East and deep Southwards rather than fixating on the West and overtly remaining Pakistan centric. Experts, who have interacted with the new Prime Minister on the issue, believe Japan is emerging as a thrust area, but not at the cost of China, which will also find due place.
The chairman of BJP's foreign affairs cell Shashadari Chari, MP Tarun Vijay alongwith senior journalists Sanjay Baru and Ashok Malik, while deciphering the new government's foreign policy, agreed that Modi will clear road blocks and will not allow to fritter gains for want of indecisiveness that plagued the previous Manmohan Singh government, even while maintaining continuity of core principles.
Further, in the midst of his election campaign, Modi had asked his advisors not to include anything impracticable in the poll manifesto that he cannot deliver, even on foreign policy issues. "The manifesto has deliberately omitted the NAM and the promise of a permanent seat at the UN Security Council at the behest of Modi," revealed Ashok Malik.
His (Modi's) idea is that once you are economically strong, you will automatically find places at high clubs like the UNSC, etc. Like the previous government, which spent millions on diplomatic lobbying, Modi government will not make any extra effort, but will concentrate on building its own strengths.
ALSO READ: Narendra Modi's scheduled US visit in September excites corporate
"PM Modi's emphasis on economy and defining principles of 5Ts (trade, talent, technology, tourism and tradition) will guide his foreign policy, which requires stability in the neighbourhood and global alliances," said Sanjay Baru, author and media advisor to former prime minister Manmohan Singh. All the experts agreed that Japan will emerge as a key player keeping in view Modi's bonhomie with Japanese companies and their role in building Gujarat.
Shashadari Chari felt that while keeping core principles intact, the Modi government will be different in formulating the response mechanism, lacking in the previous government. A fine balance will be maintained while extending relations with Japan and China, the same will be done with Israel and the Gulf countries for the sake of energy security.
Writer Ashok Malik emphasised that rather than using coercive mechanism, the new Prime Minister was inclined to use the power of economy to influence neighbours to partner India. And unlike the Manmohan Singh government, where foreign policy was Delhi-centric, Modi intends to use the chief ministers of border states, such as Punjab chief minister for Punjab-to-Punjab, Gujarat chief minister for Porbhandar-Karachi and West Bengal chief minister for Bengal-to-Bengal cooperation and so on. Another dissimilarity from Singh's times is that rather than being a dreamer (for Singh's statement of having breakfast in Amritsar, lunch in Lahore and dinner in Kabul), Modi will be a real-world man and pursue domestic strengths to carry forward foreign policy.