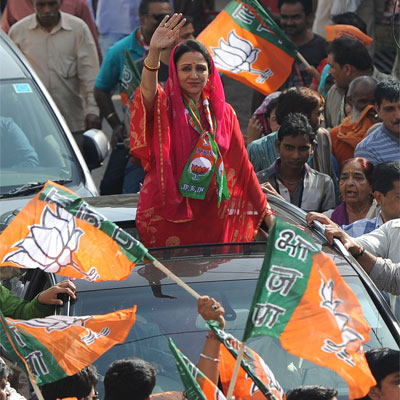 Dismissing suggestions that she would leave 'Braj Bhoomi' after elections, BJP Mathura nominee and actress Hema Malini on Sunday said that she was close to "buying a house" in the constituency.
"I am a devotee of Lord Krishna. I want to stay here and do work for the Braj Bhoomi...A deal of purchasing a house in Mathura is almost in the final stage," Hema told reporters. The 'dream girl' of yesteryears alleging that land of Lord Krishna and Yamuna were in "miserable state", claimed that she would like to get them "corrected". "The land of Lord Krishna is in miserable state. Yamuna water is polluted, condition of roads, drinking water, power supply is miserable. Like my obeisance to Lord Krishna, I would like to get all this corrected", she said.
In the Lok Sabha polls fray from Mathura on a BJP ticket, Hema earlier had said she was destined to make an electoral entry from the land of Lord Krishna which she claimed she had opted over Noida and Ghaziabad. "As member of Rajya Sabha, I was not aware of the problem of the area. However, with my campaigning in rural area, I could understand basic problem of the district", she said.
The veteran actress also claimed that if voted to power, she would turn Mathura into a tourist hub. "There is lot of spiritual and tourist potential in Mathura. I would make efforts to develop infrastructure so that tourists proceeding to Agra may not miss Mathura", she said. Hema also said she will work towards getting Mathura declared as a 'tirthasthal' (pilgrimage centre). "Connecting Goverdhan, Nandgaon, Barsana, Vrindaban with the rail link would be my priority", she added. Narrating her plans about bringing a planned development in the city and about opening avenues for employment, she said, "Efforts would be made to bring Mathura in the ambit of NCR and then priority would be the establishment of big industries."
The BJP candidate pitted against Rashtriya Lok Dal's (RLD) general secretary Jayant Chaudhary, son of party chief Ajit Singh, is also working to woo women electors, which are likely play an important role in the elections here. Out of the total 16,83,994 electors in the constituency, 7,50,471 are women. Mathura is going to polls on April 24.
In Amritsar, BJP candidate Arun Jaitley claiming to buy a house in the city, earlier became a centre of a row. Jaitley's Congress rival Amarinder Singh filing a complaint with the Election Commission, called the purchase as "part of his election campaign" expenses and aimed at garnering support from people as they have been considering the saffron leader as an "outsider".