Jammu & Kashmir has evacuated nearly 8,000 civilians from 21 villages as a precautionary measure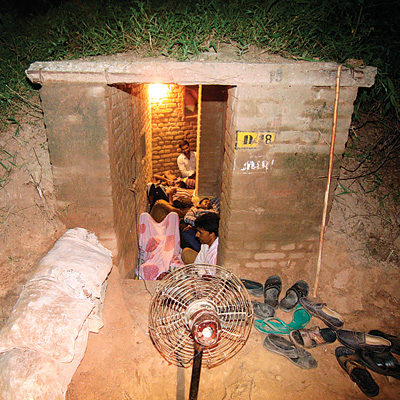 For the first time since the 1971 war, Pakistan has resorted to incessant heavy shelling on Indian positions and civilian areas on the international border during the last 45 days.
"Yes it is (the heaviest) for last many years. I think maybe after the 1971 war, this is the (heaviest)… Forty five days is a very long period when these kind of things happen," said DK Pathak, director general of Border Security Force (BSF).
Pathak's statement came on a day when guns fell silent and there was no report of firing from the Pakistani side since Monday night.
There have been around 33 ceasefire violations on the international border in Jammu division since July 16 when Pakistani rangers started a fresh offensive. Two civilians have died and over a dozen people, including BSF personnel, have been injured in the violence so far.
"There had been a similar series of ceasefire violations in August-September 2013 which lasted for 25 to 26 days. It has been more prolonged (this year), continuing for 40-45 days and still going on," said Pathak.
The escalation has prompted the Jammu and Kashmir government to evacuate more than 8,000 residents from at least 21 villages located in the vulnerable zones on the border as a precautionary measure. The displaced people have been put up in schools, stadiums and at the Satasang Bhawan in RS Pora area of Jammu.
Pathak said that India has made several attempts to scale down the situation. "We have made so many efforts. There have been as many as 16 attempts to contact them on the telephone through the established channel of communications. They have only responded to a couple of initial calls. They are absolutely not responding now. There has been no initiation from their end," said Pathak.
After every incident of ceasefire violation, the BSF sends a protest note but Pakistan has not paid heed to these notes either. "We have also attempted holding flag meetings but they have not turned up. They have never turned up for flag meetings," said Pathak.
He said that India cannot be a mute spectator when Pakistani rangers target Indian posts and civilian population on the borders. "We are mandated to guard the borders. Our mandate is very clear — any cross-border crime of any nature has to be dealt with and appropriately retaliated," said Pathak. "It is our principle of engagement that we do not fire the first shot and do not target civilian areas."
Security forces fear that the incessant shelling from the Pakistan side is aimed at pushing in militants into India. "It is easiest to negotiate the routes during this period and push more and more infiltrators. This has been our experience. The same trend was observed the last couple of years too. They always try to push more and more infiltrators. How many succeed in coming this side is a matter of question," said Pathak.