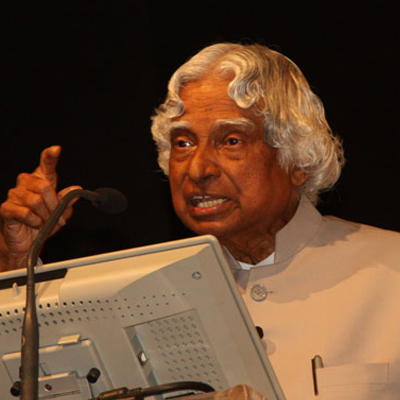 Creative leaders will be the key to attain an economically developed and prosperous India by 2030, former President APJ Abdul Kalam said today.
Addressing students at the third Annual Commerce Convention of Delhi University, Kalam said a creative leader is the one who not only has a vision but also the passion to transform it into action.
"A generation of creative leaders will play a huge role in attaining a healthy and happy India by 2030," Kalam said.
Exhorting students to come up with out-of-box and innovative solutions to problems, Kalam said ideas were no longer geographically or politically confined and soon there will be a time when border-less interaction will take place.
An MNC in Bangalore has become truly multicultural with a Korean, an American, a Japanese and an Indian together solving a banking problem in Australia, Kalam said.
By 2030, there will be a world of nations where the divide between rural and urban, rich and the poor, developed and developing has narrowed down, he added.
When asked by a student on the issue of corruption, Kalam said self righteousness in the hearts of the youth of the country will ensure that India will overcome such an evil.
"Government will not give you self righteousness. It has to come from within you," he said.
'Leveraging Business: Discovering New Horizons' is the theme of this year's convention organised by DU's Department of Commerce.
S Raman, Whole Time Member, Securities and Exchange Board of India (SEBI), also participated in the inaugural session of the convention.