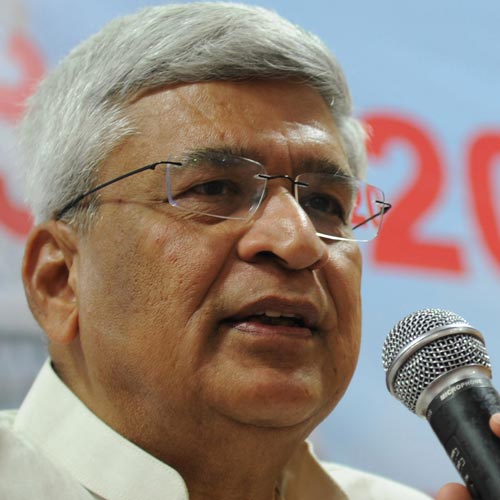 After a severe drubbing in the Lok Sabha polls, the top leadership of CPI(M) and CPI met on Sunday to review the post-poll situation and examined the factors that led to the poor results.
The CPI(M) Politburo, at its day-long meeting, discussed the results and reviewed the emerging political scenario in the wake of a landslide BJP victory and the performance of the Trinamool Congress in West Bengal.
The meeting conducted a preliminary review of the party's performance in the elections and examined the various factors which led to the poor results, party leaders said.
Besides General Secretary Prakash Karat, the meeting was attended by Biman Bose, Surjakanta Mishra (both from West Bengal), Kerala leaders including Pinarayi Vijayan, Tripura Chief Minister Manik Sarkar, Sitaram Yechury, Brinda Karat and S Ramachandran Pillai.
The meeting also condemned the continuing attacks on CPI(M) and Left activists and supporters in West Bengal allegedly by Trinamool Congress workers.
Karat later told reporters that the situation in West Bengal, in the wake of alleged large-scale rigging and violence, was "worrisome". The state committee would meet in Kolkata soon to hold an in depth review of the situation.
To questions, Karat said the next steps regarding how to cope with the challenges and strengthen the party and the Left organisation would be debated next month when the Central Committee meets here on June 7 and 8.
Before this meeting, the Politburo would meet again on June 6 to finalise the election review and the political- organisational steps to be taken in the emerging situation.
Basu and Yechury said the Politburo discussed the preliminary reports of the state units on the elections.
The reports on elections and political organisation would be placed before the Central Committee for discussion and adoption. Karat has already described the poll results in West Bengal as "distorted" due to the rigging and violence by the Trinamool Congress.
The CPI Central Secretariat also met and had a preliminary review of the poll outcome. Those who attended the meeting included veteran leader AB Bardhan, party General Secretary S Sudhakar Reddy and National Secretary D Raja.
The party's National Council would also meet next month for a full discussion on the results and organisational issues.
On the poll results, Raja had said that BJP had taken full advantage of the anger of the people against Congress and its policies on one hand and the "complete absence" of a non- Congress, non-BJP alternative in the Lok Sabha polls on the other.
Both Karat and Raja have called for conducting of a serious introspection within their own parties as well as within the Left about the role they would play in the coming days, especially their numbers dwindling from 24 in the 15th Lok Sabha to ten now, rendering them virtually politically irrelevant in the House.