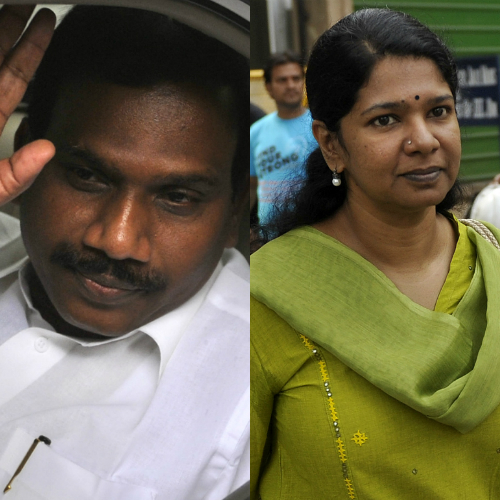 A special court on Friday fixed June 3 for the commencment of arguments against former telecom minister A. Raja and Dravida Munnetra Kazhagam (DMK) leader Kanimozhi in the alleged case of money laundering related to the 2G scam.
"The court has posted for hearing day to day from Tuesday onwards," Advocate Vijay Agarwal, said to ANI. The court said it will also hear arguments on the bail application moved by Raja, Kanimozhi and the other accused on Tuesday.
"Today, various accused persons have filed their list of defense witnesses before the court. So, the prosecutor Uday Lalit has given no objection to those applications. So, other accused have been asked to file their defense witness application by the end of the day," Agarwal added.
On the plea filed by Swan Telecom promoter Shahid Usman Balwa, seeking permission to withdraw answers given by him earlier to court in the 2G spectrum case trial, Advocate Vijay Agarwal appearing on behalf of Balwa said, "Whatever the questions the court did not approve off will be deemed to be deleted and for the balance cost will be recorded. One lakh has been imposed on my client."
In 2012, Indian police had charged a total of 19 people and six companies in the alleged scam, including Raja, who presided over the 2008 licensing process, and several high-ranking corporate executives. All accused in the case have denied any wrongdoing and their trial is ongoing.
The scandal is the largest of the several that emerged in former Prime Minister Manmohan Singh's second term, weakening the government's political authority. The Comptroller and Auditor General (CAG) had estimated a potential revenue loss of up to $39 billion to the government due to sale of licences at below-market prices in that period.