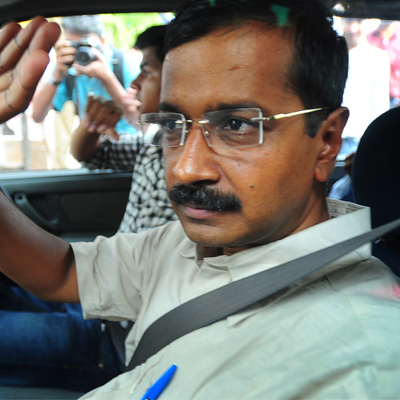 Former Delhi chief minister and Aam Aadmi Party (AAP) leader Arvind Kejriwal was sent to judicial custody for two days by a court on Wednesday.
Kejriwal has refused to furnish a bail bond in connection with a criminal defamation complaint filed by BJP leader Nitin Gadkari.
Senior advocate Pinki Anand, who appeared for Gadkari said "As per law an accused is supposed to provide a bail bond to secure bail, which Kejriwal opposed to do so. We a had a lot of arguments on this issue and the court ordered him to furnish a bail bond of ten thousand rupees against his release. Initially he accepted it but then he refused to do so. Therefore he was arrested in the court itself and sent to judicial custody,"
Anand said:"The next hearing before the Metropolitan Magistrate Court has been set for May 23rd."
The court had on February 28 summoned Kejriwal as an accused in the criminal defamation complaint observing that statements allegedly made by the AAP leader have the effect of "harming the reputation" of the complainant.
The summons was issued against Kejriwal on a complaint in which BJP leader Nitin Gadkari had alleged that he was defamed by Kejriwal, who had included his name in the party's list of "India's most corrupt".