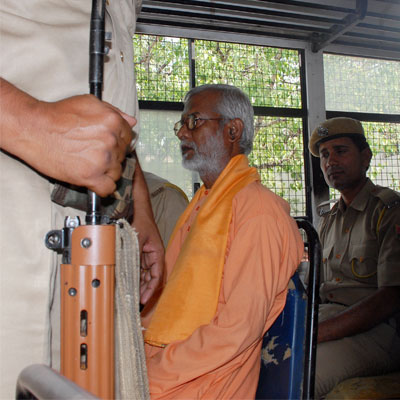 The Andhra Pradesh police had information about the existence of a "Hindu terror network" after the 2007 Hyderabad Mecca Masjid blasts, a former CBI officer told dna in the wake of a media report claiming the Rashtriya Swayamsevak Sangh (RSS) was behind multiple blasts.
During four rounds of interviews to Caravan magazine, arrested accused Swami Aseemanand said that the blasts were supported and funded by the RSS' top level, according to the magazine. The RSS, which is the Bharatiya Janata Party's ideologue, questioned the veracity of Aseemanand's statements.
A former CBI officer, who unearthed the "Hindu terror network" and arrested Aseemanand, said that although the Congress-led Andhra Pradesh government had leads on the existence of such a network after the 2007 blasts, the AP police went after 70 Muslim youth, who were arrested, tortured and implicated in the case. The officer said he was able to draw a link between the Malegaon, Ajmer and Mecca Masjid blasts, which were all triggered by mobile phones, after 12 days of intense investigations.
"When I told my seniors, we should look at Hindu fundamentalists, they told me I am mad," said the former CBI officer. "The AP police also had information, but they chose not to pursue the lead. With considerable evidence that my team had gathered, we got a go-ahead. When my colleague shared the information with (Anti-Terrorism Squad's) Hemant Karkare, he immediately took the lead and arrested Sadhvi Pragya Thakur and the rest is history."
The CBI later arrested Assemanand, who is currently in Ambala jail.
Meanwhile, RSS spokesman Ram Madhav questioned the interview's authenticity saying Aseemanand had denied giving any such interview. "This is a political conspiracy," said Madhav. "One has to bear in mind the timing of this information so close to the election. Similar flase allegations to defame the RSS leadership were made earlier too, and have been proved to be incorrect."