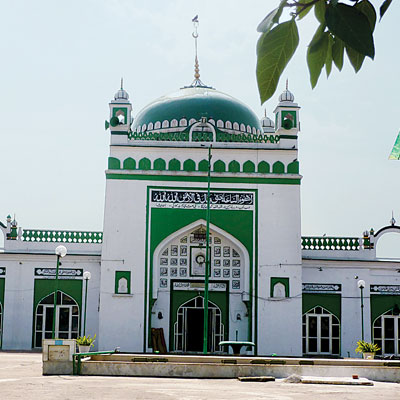 Even as Uttar Pradesh (UP) grapples with communal polarisation of votes, which experts say is unprecedented since the Ram mandir movement that culminated in the demolition of the Babri masjid in Ayodhya in 1992, miscreants are busy raking up a controversy related to another Babri masjid that stands tall in the heart of Sambhal city, some 200km southeast of Delhi.
Residents believe the mythological Sambhal tehsil is the place where, in Kalyug, Lord Vishnu will be reincarnated in the avataar of Kalki. Several organisations have been working behind the scene to encourage a section of kanwariyas (devotees of Lord Shiva) to perform jalabhishek (a ritual water offering) at the Jama Masjid of Sambhal, also known as the Babri masjid.
The Sambhal mosque, built by a Mughal general, Mir Hindu Beg, in 1528, is the only surviving Mughal building constructed during the time of Babbar; two other structures from the Babbar era, one in Panipat that was built in 1526 is in ruins while the mosque at Ayodhya, built in 1528, remains demolished. Muslims make up about 40-55 per cent of the electorate in Sambhal and its neighbouring towns, Moradabad, Amroha and Rampur. The underlying communal tension has now come full circle after the Samajwadi Party (SP) changed its candidate mid-way to field former BSP member Shafiq-u-Rahman Barq.
Barq represented the seat in the 15th Lok Sabha but is now contesting on a SP ticket, who had earlier fielded Javed Ali Khan. Annoyed at being denied a ticket, Khan is playing a spoiler, even though Mulayam Singh Yadav managed to get both of them to shake hands on stage.
Barq says fanatic forces have exploited the issue of the mosque in the past, but had been lying dormant and it is possible for them to use such tactics again for political gain. "It's not religion that they are aiming for. If some Hindus are trying to build an environment to turn the mosque into a temple, it's an outright political move," he said, reminding that a Parliamentary Act mandates a status quo on all religious structures from before 15 August 1947. "And this mosque is also under protection of the Archaeological Survey of India (ASI)." He also says that Hindus lost a claim case over the site in 1877.
Congress candidate Acharya Pramod Krishnam says that while Sambhal is the only town in the world where mythological conditions necessary for the birth of the Kalki avataar hold true, he disputes that the Lord will reincarnate near the mosque. Some distance away from the mosque stands the Raniwala Mandir devoted to Sri Kalki Vishnu; it was constructed by Rani Ahilyabai Holkar. The temple's caretaker, Mahendra Sharma, refuses to have any conversation, fearing he will get into trouble, but he does say that local Muslims saved the temple from being torched during the bloody riots of 1976.
Krishnam organises a Kalki mela in a small village, Gram Aachora Kambhu, near Sambhal every year. The place has attained the status of a pilgrimage site in the last three years, and has been visited by union ministers Dr Farooq Abdullah, Sriprakash Jaiswal, Salman Khurshid, Subodh Kant Sahay, Sachin Pilot, and actresses Hema Malini and Monica Bedi.