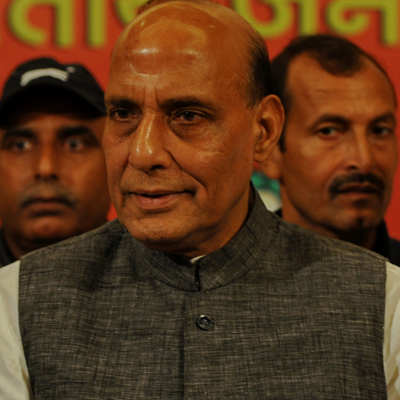 Congress will not succeed in its attempt to communalise elections as the people of the country believe in Vasudhaiva Kutumbakam (whole world is a family), BJP President Rajnath Singh said, after Syed Ahmed Bukhari's appeal to Muslims to support the ruling party.
"The colour of communalism will never taint India. We believe in Vasudhaiv Kutumbakam. Their (Congress) attempts won't succeed," Singh said, referring to the Shahi Imam's appeal to Muslims to support Congress in the Lok Sabha polls.
Singh was talking to reporters outside the residence of former Prime Minister Atal Bihari Vajpayee, whom he met to seek blessings before filing his nomination from Lucknow seat tomorrow.
Vajpayee represented the UP capital in Lok Sabha several times before he was forced by his poor health to opt out of public life.
"Lucknow was Vajpayee's Karmabhumi (workplace). I took his blessings and will now head straight to the airport. I will file my nomination tomorrow," he said.
Bukhari, considered an influential religious leader, appealed to Muslims to support Congress and ensure that secular votes are not divided, days after his meeting with Congress president Sonia Gandhi sparked a row.
BJP has asked the the Election Commission to take cognizance of Bukhari's statement.