Starting January 21, rail travel will become costlier across the board.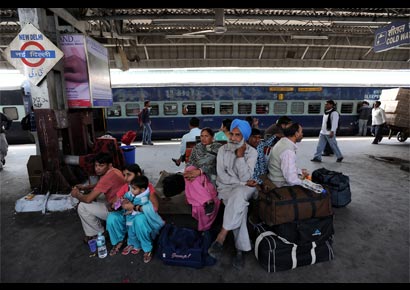 The government has decided to bite the bullet and go for a passenger fare hike across all classes to helm the dwindling finances of the Indian Railways. The Union railway ministry on Wednesday increased the passenger fares in all classes of rail travel ranging between two paise a kilometre and 10 paise a kilometre. This translates into a 10-20% hike in fares. The fare hike will fetch railways only Rs6,600 crore.
Beginning January 21, AC three-tier and AC chair car fares will go up by 10 paise per km. There will be a hike of 10 paise a kilometre in the AC first class and 6 paise a kilometre in case of AC two-tier. Second class ordinary suburban travel will be dearer by 2 paise a kilometre. For second class ordinary non-suburban travel, passengers will have to shell out an additional three paise a kilometre.
Announcing the fare hike, Union railway minister Pawan Bansal said: "There has been no revision in the last 10 years and it has had a telling impact on the railway finances. Railway has incurred loss of Rs19,964 crore on passenger operations in 2010-11. This is likely to go up to Rs25,000 crore by the end of the current fiscal. Input costs have significantly gone up in the last few years. This year, given the economic conditions, we may fall short of our targeted freight tonnage. Therefore we have decided for a moderate passenger fare hike."
Giving an indication that the fare may again be revised if required, Bansal said that there won't be any revision at least till the railway budget is presented in February.
Losses on the passenger segment have grown from Rs6,159 crore in 2004-05 to the current levels of about Rs25,000 crore, registering an annual 18 per cent growth. However, the current fare hike will fetch railways only Rs6,600 crore. Responding to the gap, Bansal said: "I know this is not enough for plugging the cross-subsidisation. But you can't take out the entire revenue overnight."