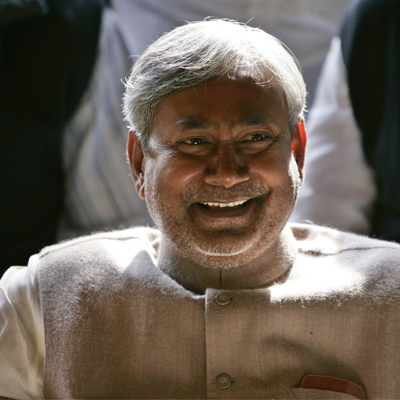 Following directions from the All India Congress Committee (AICC), a Congress delegation of the state will meet Governor DY Patil today to submit a letter of support for the JD(U) government led by Jitan Ram Majhi, who will be sworn in at 5 pm on Tuesday.
"Our High Command has informed us today morning to provide a letter of support in favour of the JD(U) government to the Governor. We have sought time and will go to Raj Bhawan today itself," Congress Legislature Party (CLP) leader Sadanand Singh said.
Asked about Congress' plans of participating in the state government, Singh said there were no instructions on the matter from the AICC "as of now".
"We had asked the High Command about the Congress being a part of this JD(U) government. No instructions regarding it have come so far and we are waiting for it," said Singh, who is an MLA from Kahalgaon assembly constituency.
The four-member Congress, which voted for the Nitish Kumar government in the trust motion in June last year, had authorised party High Command to decide on the future course of action.
The party has three MLCs including Bihar Pradesh Congress Committee (BPCC) President Ashok Choudhary, Madan Mohan Jha and Dilip Chaudhary. Nitish Kumar, who refused to take back his resignation as Chief Minister yesterday despite repeated pleas by JD(U) legislators had chosen senior minister Jitan Ram Manjhi to succeed him.
Stating that the JD(U) had staked claim before the Governor to form the government under the leadership of Jitan Ram Manjhi, Kumar had claimed that the party had handed over a list of support of 117 JD(U) MLAs, 2 Independents and 1 CPI member totalling 120 to the Governor for formation of the new government.
The effective strength of the House at present is 239. JD(U) has 117 members, BJP 90, RJD 21, Congress 4 and others including Independents 1 CPI member 7.