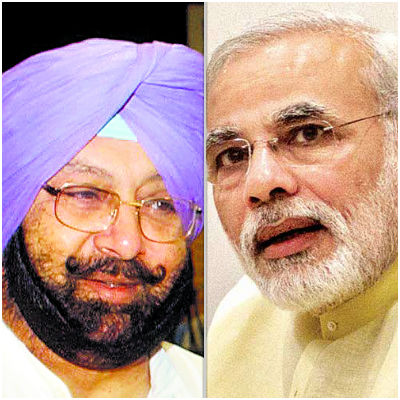 Deputy Leader of the Congress in the Lok Sabha Captain Amarinder Singh expressed grave concern over abduction of 40 Indians from Mosul town in Iraq and asked the government to ensure the safety of all Indians stuck there.
He also sought India's urgent intervention to ensure the safety of Indians, besides return of all its nationals stranded there including those reportedly abducted by the insurgents.
In a statement, Singh said he shared the pain and anguish of the relatives of those kidnapped, most of those belonging to Punjab and other neighbouring states.
Singh said that the situation was turning alarming dangerous in Iraq and the government of India must ensure that all the Indians stuck there are safely evacuated. He said that besides the 40 people abducted, several nurses working in Iraq have also been seeking assistance from the government of India which must be provided to them.
"All these people have been trapped in an unfortunate situation and it is our duty to help them out," he said while expressing hope that the government treats the matter as urgent and ensures safe return of all those stuck and stranded there.
At the All India Congress Committee (AICC) briefing, party spokesperson Raj Babbar sought answers from the government on why the Indians were not evacuated in time. "Congress is concerned that Indians were not evacuated in time," Babbar said here.
He said that Modi was still in election mode and raising slogans like B2B (Bharat to Bhutan relations). "The government should come out and clearly explain the strategy it is adopting for the safe return of those kidnapped as well the nearly 18,000 other Indians there," he said.
Babbar added that the government should attach "high importance" to the plight of Indians in Iraq.