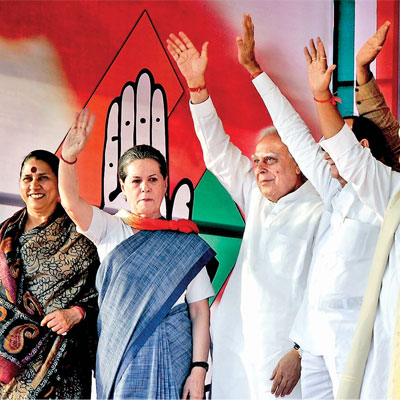 Launching an attack on the Bharatiya Janata Party (BJP) as well the Aam Aadmi Party (AAP) without naming them, Congress president Sonia Gandhi on Sunday described the forthcoming elections a battle of ideologies.
Hitting the campaign trail in Delhi, she said the Congress was a trusted and experienced party to run a government efficiently and effectively.
She said the Congress was seeking votes on the basis of ideology and on the UPA government's work in the past 10 years. "Congress ideology teaches love and quality and we always have goodwill for opposition parties, but out there, someone is teaching fanaticism and how to create conflict between two communities," she said.
The Congress president described the BJP as a "divisive force" and slammed the Arvind Kejriwal-led AAM by reminding the fledgling party that "running a government was not a child's play" and they run away from responsibilities in Delhi.
"A few people came with tall claims and ran away in 15 days. They were not aware that running a government is not a child's play. People have always made the right choice and would once again vote in favour of the Congress," she said without naming AAP or its leader.
Without naming the BJP or Narendra Modi, Gandhi said, "I am in politics to take the tradition of the Congress party forward. For me, it's more important to protect the Ganga-Jamuni Tehzeeb than power. But there are certain individuals and organisations that want to take the country into darkness and doom. I have faith in the judgment of the people. Even this time, you won't make a mistake in taking the right direction and support the Congress."
She also questioned the "tall claims" of patriotism by rival parties and said they can only give speeches at public rallies but patriotism is in the Congress DNA. "If they want to learn patriotism and love for the country, they should learn from the Congress. If they want to learn, they should learn from Congress leaders who scarified their lives. They should learn from soldiers fighting for the country and from the common man, working day and night to earn food," Gandhi said.