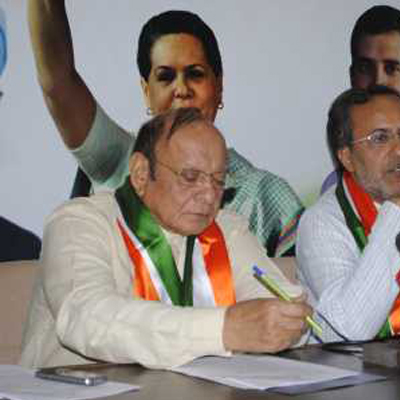 Relying on a loyal vote bank comprising the Rajputs, Thakors and OBCs besides the support of five MLAs, the Congress is trying to wrest the Sabarkantha seat from the BJP, riding on the strength of its top regional leader Shankersinh Vaghela.
Though Vaghela lost the 2009 Lok Sabha election from Panchmahal seat, he made a comeback after winning the assembly election in 2012 from Kapadwanj. It is said Vaghela himself chose Sabarkantha, as it is still considered as a safe seat for the Congress. Sabarkantha is a Congress stronghold owing to tribals, Rajputs, Thakors and OBCs, who helped the party secure six out of seven seats during 2012 Assembly elections. However, one of their MLAs recently migrated to the BJP reducing their tally to five.
Moreover, with the entry of Shankersinh Vaghela as Congress candidate for the seat, the battle is now perceived by many as one sided as BJP candidate Deepsinh Rathod considered by his partymen as 'too down to earth', is no match against larger than the life status of Vaghela.
However, Rathod is receiving help from 'Modi wave', which is making Vaghela run for votes in this heat. According to locals in Kantwad village on Prantij-Himmatnagar highway, there is no place for Congress in Sabarkantha.
'The development, such as roads, you are seeing here is due to BJP. It wasn't the case 12 to 15 years back. The ceramic and steel factories behind this village are giving employment to many village youngsters. Congress doesn't stand a chance in Sabarkantha, irrespective of who is their candidate. This time, its all about making Narendra Modi our prime minister,' said Mangalsinh Thakor, a tea vendor
The Sabarkantha Lok Sabha seat is currently held by BJP MP Mahendrasinh Chauhan, who defeated Madhusudan Mistry with a thin margin of around 21000 votes. Since Chauhan decided not to contest again, BJP gave ticket to Deepsinh Rathod.
Himmatnagar has seven Assembly seats including Himmatnagar, Idar, Khedbrahma, Prantij, Bhiloda, and Bayad.
The Congress is concentrating on the tribal belt of Khedbrahma-Vijaynagar-Bhiloda with 80% tribal voters. Vaghela is also focussing on Rajput, OBC and Thakor voters in Himmatnagar, Modasa and Bayad.
'Sabarkantha is a safe seat for Congress, especially when a leader like Vaghela is contesting from here. If you go to villages and tribal areas, you don't see any 'Modi wave'. With his crowd pulling ability, Vaghela is a clear winner,' said Congressman Ranjitsinh Dhillon.
Vaghela's son Mahendrasinh Vaghela is the sitting Congress MLA from Bayad and accompanying his father in the campaign trail in and around Talod, Bayad and Prantij, having Rajput dominance.
During his public address at Ujediya village of Bayad on 15th April, Shankersinh warned them against BJP. 'People are being trapped by false promises of the BJP. You should not be a victim of such politics and try to bring such misguided people back from BJP,' said Vaghela in his speech.
While talking to media, Vaghela listed several problems faced by villagers under the BJP government. 'People of Sabarkantha have been neglected by state government since last 15 years. Cotton growing farmers are not getting fair price. Such basic issues will be my priorities if I will be elected,' he said.