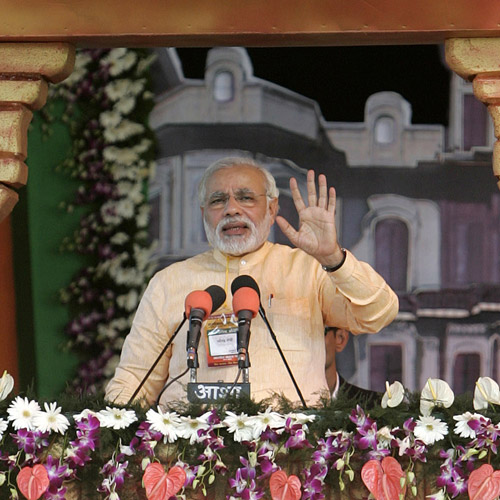 Bharatiya Janata Party (BJP) prime ministerial candidate Narendra Modi on Friday accused that Congress-led UPA Government of making false promises to the people of country, and added that this time the public wants to punish these people.
"In this season of elections, there is a strong intention of the public to punish the people who have destroyed the whole nation. They are going to wipeout this class of people. The public never forgives the traitors," Modi said while addressing a rally here.
He accused the Congress party of making false promises to the people, and said that they starts lying to people whenever the elections are near.
"The Congress had promised that they will contain the price rise in next 100 days. But instead the price rise has, since then, only increased," he said.
He said the Congress was not aware that there is tribal society in the country which is centuries old, and added that they never worked for their cause.
"A separate ministry for tribals was constituted, a separate budget was made and they got their minister only when Vajpayee became the Prime Minister. The Congress party has never cared for the cause of the tribals," he said.
"The country demands good governance, voices of the poor needs to be heard, our mothers and sisters should live respectable lives, and our farmers needs the correct motivation from the government," he added.
He also said that the present government is less worried about the cause of the farmers, and instead they are worried what would happen if Modi comes to power in Delhi.