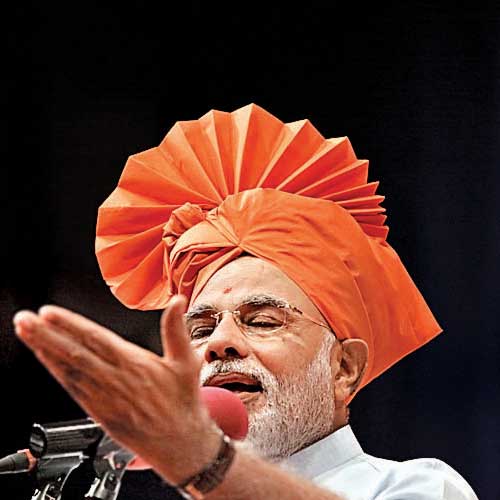 BJP Prime Ministerial candidate Narendra Modi today slammed Congress and its leaders for their attitude towards various problems faced by the country, especially women's issues, saying "they speak as though they have come from Mars."
"These days if you listen to speeches of Congress leaders, they speak as though they have come from Mars...as though they are not responsible for things happening in this country...as though they have come for the first time and all the wrong that has happened in the country has been done by someone else," he said while addressing Bharata Gellisi rally here.
God forbid let no country get such irresponsible people, he added.
In an obvious reference to Congress vice president Rahul Gandhi addressing a women's rally in Karnataka, Modi, without naming him said, "a leader came here and spoke about women and their empowerment; he spoke as though it's not their government that is in power and as though he has come from somewhere else."
He said there was nothing more irresponsible than this. "I want to challenge (lalkarna chahta hoon) him from this land." Modi pointed out that most number of crimes against women occur in Delhi, whereas Gujarat had recorded very less crime against women in India.
On Congress meet in Delhi that was widely speculated to name Gandhi as its Prime Ministerial candidate, he said "Congress leaders from across the country went to Delhi to get its PM candidate announced, but got three cylinders." He said Congress speaks much about women, but for the long tenure they were in power since Independence, had provided only 3.37 crore gas cylinder connections, whereas the Vajpayee government had given nearly four crore connections in the country in just five years.
Listing the steps taken by Gujarat government for women's empowerment, he said social security parameters is based on how much one respects women and provides them security, which should be the primary responsibility.
On problems faced by farmers, he said if farmers' lives are to be changed, importance has to be given to value addition. Priority has to be given to agro-based industries and agro-processing.
Referring to depreciation in the value of the Rupee, he said "our Rupee is depreciating despite our government being run by an economist and the reason is Current Account Deficit.
..This means import is increasing and exports are decreasing." He said a responsible government should improve exports, which could be done even by exporting chilli grown in this part of the country, for which processing units should be set up. "Our government is not working towards it."