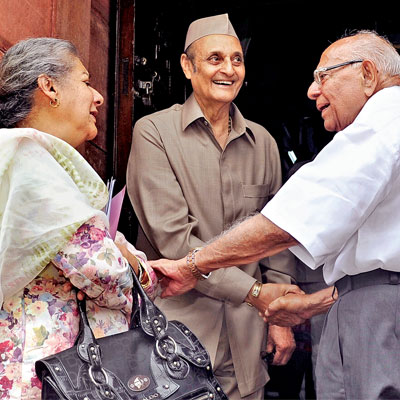 The Congress has been isolated on the Trai bill with several opposition parties including Trinamool Congress, AIADMK, BJD, SP and BSP backing it, making the government's task of pushing it in Rajya Sabha easier.
In the Lok Sabha's list of business for Monday, Trinamool Congress's Saugata Roy was to move a statutory resolution along with Congress MP Adhir Ranjan Chowdhury disapproving of the Trai ordinance making way for appointment of Nripendra Misra as principal secretary to prime minister Narendra Modi.
But when the bill was taken up in the House, Roy was missing leaving Chowdhury to move the resolution seeking disapproval of the House on the bill. Roy was apparently unaware of the last minute change in the party line after the government reached out to the TMC.
His party colleague Sudip Bandhopadhyay expressed party's support for the bill saying the prime minister "can choose any officer he thinks fit."
Sources said parliamentary affairs minister Venkaiah Naidu and law and telecom minister Ravi Shankar Prasad held backchannel talks with leaders of other non-NDA parties like AIADMK, BSP, BJD and SP.
The bill, replacing the ordinance, was passed in Lok Sabha as an isolated Congress staged a walk out along with just CPM, RJD and AAP. The government is planning to take up the legislation in Rajya Sabha, where the NDA is in minority, on Tuesday.
Justifying the amendment, Prasad said the "anomaly was that Trai chairman can work under any commercial company but not government. This was a palpable anomaly." While arguing that the amendment was an attempt to bring parity, he said no one questioned the integrity of the officer.
The Trai Act barred its chairman and members from taking up any other job in central or state government after demitting office. Misra, an IAS officer who retired in 2009, joined the PMO the day the ordinance was promulgated.
Opposing the bill in the House, Chowdhury said the ordinance was conceptualized and passed in a hurry "smacking of a hidden agenda". The TMC, too, had opposed the ordinance saying it was aimed at giving a government job to a superannuated Trai chairman thereby taking away the independence of the regulatory authority.
Mayawati, whose BSP has 14 members in Rajya Sabha, said her party will not oppose the appointment of Misra saying the Centre had the right to choose its officers. BJD's Jay Panda also said the prime minister should have the option to take people of his choice.