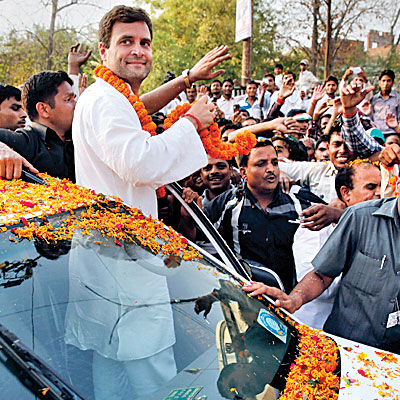 Upbeat over Rahul Gandhi's impressive roadshow here, Uttar Pradesh Congress today claimed there was euphoria among the people of the temple town which proved that the hype for Narendra Modi as claimed by BJP was created artificially to "mislead" the citizens.
Avinash Pande, AICC Secretary and in-charge of Uttar Pradesh, claimed Congress candidate Ajay Rai was going to emerge victorious in the May 12 polling riding on the "love and affection of people of Varanasi". "To see people turn out in such huge numbers on the streets of Varanasi shows we have the support of everyone in Varanasi. We don't have to indulge in any hype to garner support of the people.
People believe in the pro-development policies of Congress party and have faith in the leadership of Rahul Gandhi," Pande said. "Today's road show by Rahul Gandhi will have a huge impact among voters", Pande said Pande charged BJP was trying to "manufacture an wave" for Modi which did not work out. Rahul's roadshow covered longer routes than those by Modi and AAP candidate Arvind Kejriwal, although in opposite direction. He started from National Inter College and reached Lanka Gate after passing through busy areas like Maidagin, Beniabagh and Assi.