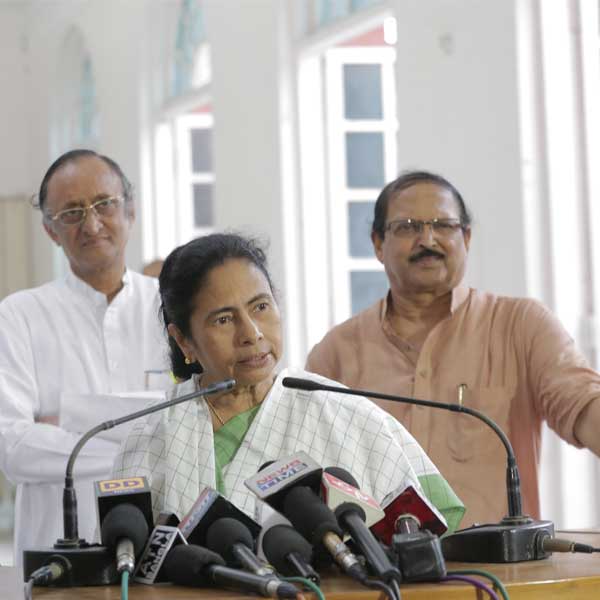 Trinamool Congress chief and West Bengal chief minister Mamata Banerjee on Wednesday went hammer and tongs at the Congress for its 'misdeeds' but was fairly soft on the Bharatiya Janata Party, thereby leaving enough hints of a possible post-poll alliance with the saffron party in the event of a hung House.
Addressing a rally in Guwahati, Mamata castigated the Congress for 'dividing the country' through the creation of Telangana and said the act of the party was aimed at scoring some brownie points in the upcoming polls.
"Congress has spoilt the country by selling and dividing it. You have voted for the Congress for long and look what they are doing. Their attitude is vindictive and their political vendetta is to engineer riots," she told the crowd.
Continuing her tirade, Mamata predicted, "Congress has sinned and so, the people would not tolerate them any longer. They have just a few days left to go".
She also took pot shots at the Congress for its latest ad campaign on development dubbing it as 'election gimmick'.
"Keeping an eye on the polls, they are now busy proclaiming to have built schools, hospitals, colleges, as if to suggest others haven't done anything".
Talking about alliance, Mamata asserted that the Trinamool would not support 'people' who indulge in riots and violence.
"We had supported a very respectable person like Vajpayee (former prime minister Atal Behari Vajpayee). But we won't support people who indulge in riots and violence," she asserted. Her reference was obviously to BJP prime ministerial candidate Narendra Modi, who is often blamed by his detractors for the riots in Gujarat.
Mamata promised that she would change the land acquisition policy if Trinamool became a part of the central government.
"We do not grab land. Land acquisition is a very bad policy. Tribals living in the jungles should get land rights because they are the ones protecting the jungles," Mamata insisted.
The Trinamool has seven MLAs in Manipur, five in Arunachal Pradesh and one in Assam.