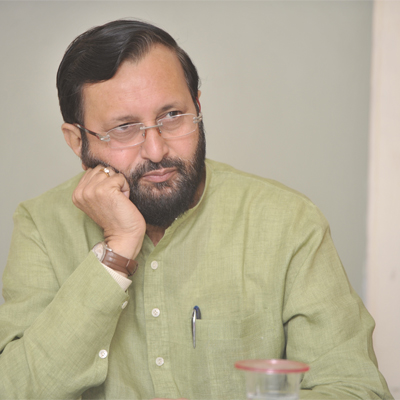 Bharatiya Janata Party (BJP) spokesman Prakash Javadekar has said that the ruling Congress party appears to have lost its balance by registering a complaint with the Election Commission (EC) against Narendra Modi.
The Congress had on Thursday evening asked the Election Commission to register a case against Modi for filing his nomination papers on polling day and holding a road show to influence voters.
Javadekar said: "The Congress has lost its balance, if Anand Sharma (Commerce Minister and Congress party leader) expects the Election Commission to take action on filing of a nomination, and says that this is a violation of code of conduct. I fail to understand that how can the filing of a nomination by someone on the day designated by the Election Commission be seen as a violation of the code of conduct."
The world's biggest election in India, which passed the halfway mark last week, entered its second-biggest day of staggered polls, in which Modi is widely seen as the front runner to be country's next prime minister. In the sixth phase of election, voters of 117 constituencies in nation's 11 states and one Union Territory cast their ballots.
Opinion polls have predicted a simple majority for the Modi-led BJP alliance which is riding a wave of public anger across India against the ruling Congress party over a slew of corruption scandals and a slowing economy.
Voting in the world's most populous democracy, where about 815 million people are expected to cast their votes, is phased over several weeks which concludes on May 12. Results are due to be announced on May 16.