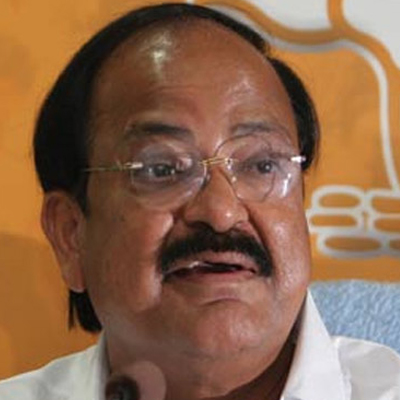 Senior BJP leader Venkaiah Naidu today said Congress has miserably failed to run a coalition government and its partners have left the alliance one after another.
"Congress-led UPA had 14 to 15 allies but all of them including SP, BSP and Left parties left them one after another," Naidu said while addressing a public meeting here in support of party candidate from Jamshedpur seat, Bidyut Baran Mahato in the ensuing general elections.
Highlighting achievements of the NDA government, he said Atal Bihari Vajpayee had not only run a coalition government of 26 parties successfully, but also ensured development in all spheres.
"Congress does not have a leader for its prime ministerial candidate and party leaders are at a loss whenever asked about it, Naidu said.
Small parties like the JMM and National Conference were supporting Congress, he said claiming Congress has become such a party which no one wants to touch.
Oozing confidence that BJP would alone win 250-plus seats and around 300 seats with its coalition partners, Naidu said the party would do well across the country including the East, Northeast and Southern states.
"Many parties in the South have joined hands with BJP including Telugu Desam Party and many more are likely to join," he said claiming that the BJP would win half of the 132 seats in the Southern states.
Describing Gujarat Chief Minister and BJP's prime ministerial candidate Narendra Modi as "3D", Naidu said Modi was a decisive, development-oriented and dynamic leader who would lead the country to new heights.
Alleging that Congress had betrayed the country during its 50-year rule, Naidu said inflation and corruption were at its peak during the last ten-year tenure of the UPA government.
"Scam after scam has tarnished the country's image during the UPA, which has miserably failed to control corruption as well as inflation," he said adding the situation has become so awkward that the party (Congress) moves one step forward only to go three steps backward.
The situation has turned so bad under the UPA regime that even our neighbours like Bangladesh do not take us seriously, he said.
The BJP leader also criticised the third front and federal front and branded it as a "failed experiment".