Rahul Gandhi's attempts at achieving inner-party democracy may have created more problems than resolving them, at least in Wardha.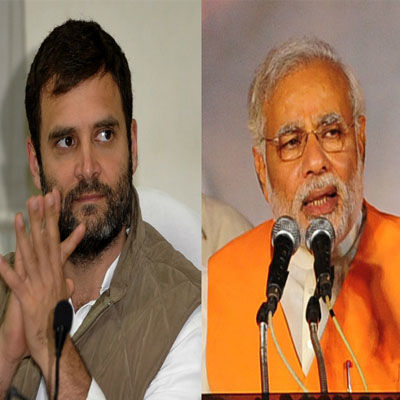 As Congress vice-president Rahul Gandhi lashed out at the Gujarat model of development in his rally at Wardha on Friday, Jaysingh Halde warily looked around when asked about the prospects of the party candidate in the constituency.
"We are on a strong pitch. But the party's factionalism may pose a problem," said the Congress supporter while speaking about the chances of Congress candidate Sagar Meghe, who is locked in a fight against former MLC Ramdas Tadas of the BJP.
Wardha may be a basket case of how Rahul's bid to usher in inner-party democracy by using US-style primaries to select candidates in constituencies may not be exactly working out.
Sagar, the son of incumbent Congress MP Datta Meghe, beat former state Congress chief Prabha Rau's daughter Charulata Tokas by a slender margin in the keenly contested polls between the dynasts to bag the party ticket despite the organisation being dominated by Tokas and cousin—minister of state Ranjit Kamble.
Party cadre admit in hushed tones that these polls may have widened the cleavages in the organisation, which did not bode well in the elections. That supporters of Datta Meghe, who is one of the strongest Kunbi-Maratha leaders in Vidarbha and has represented a record three constituencies (Ramtek, Nagpur and Wardha) in the Lok Sabha, and Rao's partisans have been seen as rivals, with Rau defeating Meghe (then in the NCP where he was party chief Sharad Pawar's acolyte before joining the Congress) in 1999, has not helped things.
Incidentally, Sagar is a former BJP MLC. The BJP hopes for a fresh opening in the traditional Congress district, which houses Mahatma Gandhi's Sewagram and Acharya Vinoba Bhave's Pavnar ashrams, and has been represented in Parliament by stalwarts like Narayan Agarwal, Kamalnayan Bajaj and Vasant Sathe by fielding Datta Meghe's former supporter Tadas, who belongs to the influential Teli community.
The only time non-Congress parties have won from Wardha, which gained infamy over farmer suicides and agrarian distress, was in 1991 (CPI), 1996 and 2004 (BJP).
The presence of Lt Commander (Retd) Dr Alim Patel (AAP) and Chetan Pendam of the BSP in the fray has also added colour as Muslim and Dalit voters can tip the scales.
"More than Rahul and Modi, it is the Meghe group which matters," said Halde as the people around him nodded, pointing to how 'Dattabhau', who hails from Savangi-Meghe, has helped locals by providing medical aid and jobs in his medical college and institutions.
"On one hand, we have a unified BJP and on the other, a divided Congress," gloats BJP district chief Dr Shirish Gode, adding that this factionalism would help them. BJP leaders say that their prime ministerial nominee Narendra Modi's rally in the town has also galvanised voters.
"This was a new system, so there will be loopholes," admitted a Tokas supporter. However, Sagar's partisans say that despite the bad blood, there is little chance of their opponents derailing their campaign with the assembly elections around the corner though they "may not work hard".
"The situation for the Congress has become stronger due to Rahulji's rally. We have fielded a young candidate who has done good work at the local level. Congress votes are consolidated," said minister of state Rajendra Mulak, adding that on the contrary, the BJP was in disarray.
"In the fight between money power and peoples' power, the later which always wins," said Ramdas Tadas, a former wrestler and two-term MLC, promising to complete pending irrigation projects and establish industries.
"The issue of farmers is forgotten," rued Shetkari Sanghatana leader Vijay Jawandia, adding that the issue, which had seen prime minister Manmohan Singh visit the district in 2006 before announcing the farm loan waiver scheme had fallen by the wayside in a personality-centric battle. He added that despite Rahul's espousal of the Rs 70,000 crore scheme, the distressed farmers of Vidarbha had received little benefit.
Sitting in a shop which serves as the office of the AAP behind a partition which has a pasted notice warning of a Rs 50 fine if activists do not wear their customary Gandhi caps with party slogans, earnest looking Nitin Zade and Ashutosh Vichore note that people are looking at Patel (38)-- a retired Indian Navy dentist—with expectations. "Televisions have reached all villages... so people known about AAP and its credo," said Vichore, adding that they were moving beyond the cynical politics of caste as practiced by others.
However, as the electoral battle heats up it is a shopkeeper who sums up the reality. "Dont ask me about the polls. How does it matter to me? Ask about what I have to undergo as a common man and the state of my business" he retorted.