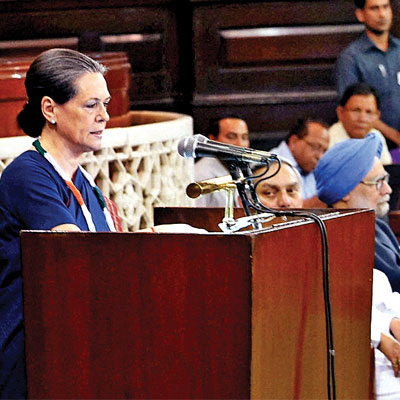 In what is known to be the typical Congress culture, the 44 elected MPs of the Congress party unanimously choose the party president Sonia Gandhi as the chairperson of the Congress Parliamentary Party (CPP). This move of the party has come at a time when the Congress has been completely routed. Its leaders have been blaming the party's undemocratic practices for the poor show.
Clamors from all quarters within the party are raising objections to the undemocratic style of working of the party. This was an ideal occasion for the party to restore its internal democratic practices, but it has, however, failed to learn its lessons.
Congress leader Mallikarjun Kharge proposed Sonia Gandhi's name for the post of the CPP which was seconded by senior leaders Mohsina Kidwai and others. And with no voice to oppose, Gandhi had a comfortable sweep as the CPP leader.
The election of the CPP of Congress had last taken place in 1997, when Sitaram Kesri was elected as their leader. During Rajiv Gandhi's era in the party, the election of the parliamentary secretaries also took place by secret ballot. "Holding an election to choose the CPP would have given a positive message amongst the party workers, but it is the prerogative of the party president," said a senior Congress leader.
The party has won only 44 seats in the election. This is the first occasion when the party does not has the required 55 seats to claim the opposition leaders post. It is now for the speaker of the house to grant the post to the Congress.
While many within the Congress want the party vice-president Rahul Gandhi to take be appointed as leader of opposition in Lok Sabha, sources in Congress said Rahul was not keen for the job. In his two previous terms as an MP, his involvements in the affairs of the parliament have remained poor. He has been rated as a below average parliamentarian. Former union minister Kamal Nath is likely to be the leader of the opposition.
Addressing the meeting, Gandhi said, "This has been a fiercely contested elections. Lakhs of Congress workers have worked hard in the last few months and I am thankful to them. I am pained and deeply pained, but we have to introspect - both individually and collectively." Gandhi, however, praised Manmohan Singh for providing wise, sober and dignified leadership for a decade. AK Antony or Ghulam Nabi Azad could be the leader of opposition in the Rajya Sabha.