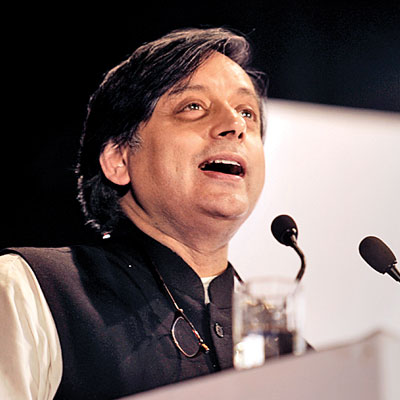 Are there two camps in the Congress, one for going all out against prime minister Narendra Modi no matter what, and the other for giving him space till he goes and commits blunders that the Congress can then pounce on?
The answer to that is an "apparently yes", proof of which has come after Congress MP and former minister of state in the Manmohan Singh government Shashi Tharoor gave his thumbs-up to Modi for being "inclusive and accommodative".
Tharoor, who also said that it would be "churlish" of the Congress to "ignore" Modi, is one of several official Congress spokespersons, and he chose to praise Modi from the Congress party platform on 24 Akbar Road.
"Let me just again repeat, we encourage and repeat our own appreciation of the very positive and inclusive language we have been hearing from the highest level of this government and we urge all concerned to ensure that language and spirit behind those words is heeded at all levels of those who follow this particular set of political beliefs," Tharoor said on Wednesday.
The Congress on Thursday opted to be "churlish". One of Tharoor's party colleagues and fellow spokesperson, Shobha Oza, said that when Tharoor spoke about Modi and his government, he was articulating his personal view and not the party's views.
"What Mr Shashi Tharoor expressed was his personal views ...that is what he says. As I said as a party it's too early to comment on the working of the government. Let the government work. If they (sic) don't do anything wrong, the Congress party will not point fingers them unnecessarily," Oza told media during the party's daily press briefing at the party headquarters on 24 Akbar Road.
Efforts to get a response from Tharoor to his party's stand post his praise of Modi failed. It must be pointed out, however, that while saying that Modi has changed into an "avatar of modernity", Tharoor also said that Modi's message was yet to reach the rank and file of the larger Sangh parivaar.