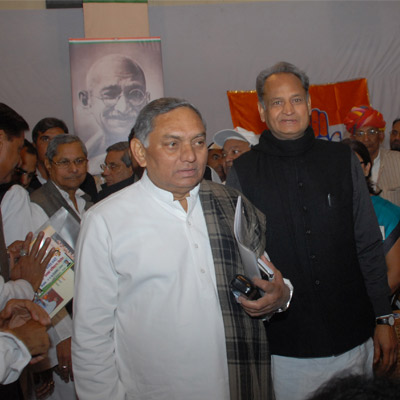 A 'trial balloon' floated by the Congress general secretary Janardan Dwivedi demanding an end to the caste-based reservations got deflated mid-air. Though the middle class urban elite and Twitterati appreciated Dwivedi calling him the only "reasonable voice" within the party, adverse political reactions from the hinterland forced Congress president Sonia Gandhi to step in and issue a statement denying any such move.
"There should be no doubt or ambiguity on the stand of the Congress on the system of reservation for scheduled castes, scheduled tribes and OBCs," she affirmed.
Dwivedi, known as Sonia's voice in the party, said instead of the caste-based reservation, quota should be introduced for the financially weaker sections of all communities, including Brahmins and others seen as upper castes.
Party sources say it was a "trial balloon" to elicit support amongst 70% of the educated youth finding their space shrinking because of all sorts of reservations. Some even saw in it an attempt to wean away the upper caste youth leaning towards the Bharatiya Janata Party.
But, Gandhi on Wednesday distanced the party from any such attempt. She said her party is of the firm opinion that this system of reservation "must continue" as it is essential to deal with the discrimination imposed by centuries of subjugation and oppression. Sonia pointed out that it was the Congress that introduced the SC and ST reservation in government employment, educational institutions and elected bodies way back in the early 1950s while it was again the Congress that introduced quota for OBCs in government employment and educational institutions in the mid-1990s and alter.
On the reservation to the economically weaker sections, she said in its 2009 Lok Sabha election manifesto the party had pledged reservation to this section. She said a dialogue on this had already been initiated.
Till Gandhi's statement, senior Congress leaders were confused as to whether Dwivedi was speaking for himself or airing the views on behalf of the Congress president since he is seen as among half a dozen top party leaders very close to Sonia Gandhi.
The BJP, the Shiromani Akali Dal and the BSP chief Mayawati questioned the timing of the Congress leader's statements. Mayawati even reminded that Congress never favoured quota and has been sitting on a constitutional amendment bill seeking reservation in promotions.
It may be recalled that Congress Working Committee under Rajiv Gandhi had passed a resolution in 1990, expressing similar sentiments. Soon after agitation against implementation of Mandal Commission recommendation, the Congress resolution argued against making caste the sole criterion for affirmative action. That resolution pushed for a graded analysis of each caste group among the backwards to exclude the privileged.