Indian Nation Congress releases a series of info-graphics claiming that not only had the BJP plagiarised their manifesto but also that promises made by them have already been fulfilled by the UPA government
In a scathing attack over the BJP's election manifesto for Lok Sabha polls, Congress has accused the leading opposition party of having 'blatantly copied from INC's Manifesto'. They say it 'is nothing but a laundry list of disconnected ideas'.
In an infographical article on their website they explain how and why the offerings of the BJP manifesto are redundant and have already been achieved by the UPA government.
It points out that date on the manifesto is the same as that on Congress' manifesto, even thought BJP released its document much later. "No prizes for guessing how that happened," the article states with much sarcasm.
Taking the battle up by a notch, it further goes on to point the schemes promised by the BJP that have already been achieved by the Congress led government, such as the 'One Rank One Pension' benefit. It says, "They say "low cost housing" will no longer be a mirage. They are right. It has already become a reality under UPA's Rajiv Awaas and Indira Awaas Yojana's. UPA has now assured the people of India of a "Right to Homestead."
It also contests the origins of the BJP promise to 'empower our youth for self-employment by incubating entrepreneurship' saying, "They seem to have tried hard to sound different from us. The Congress has already promised the people a Right to Entrepreneurship."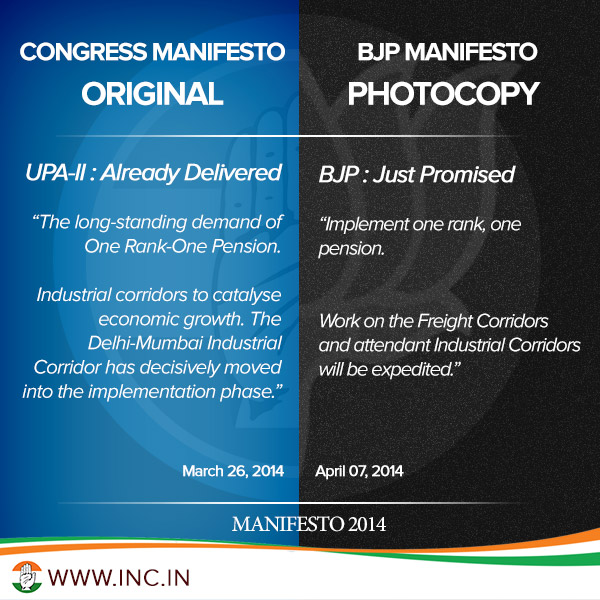 It also claims that BJP's 'Neo Middle Class' goal is also "lifted from the Congress Manifesto". The article elaborates, "Rahul Gandhi has repeatedly talked about this in the last one year. It's the no 1 point in our detailed action agenda–A New Future for the Hands That Build India."
On BJP's intent to identify 100 most backward districts in India, Congress writes, "Clearly, the party hasn't noticed that this has already been done under the Backward Regions Grant Fund and the Integrated Action Plan (for Naxal-affected districts)."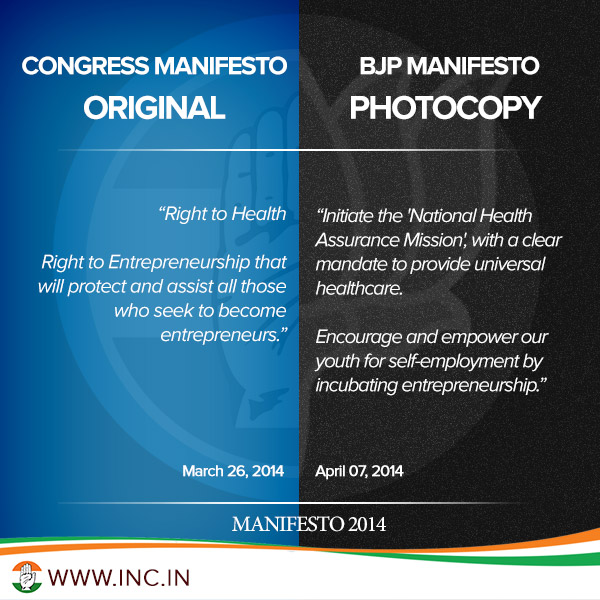 Other points of plagiarism, as alleged by the Congress:
* The BJP manifesto promises of a National Judicial Commission is a straight lift from the Congress manifesto.
* BJP's promise of AIIMS in every state is a UPA project. Congress has already established 6 new AIIMS.
* BJP proposed to 'expedite' the industrial corridor projects. Congress already started work on the Delhi-Mumbai Industrial Corridor project and proposed the Amritsar-Kolkata Industrial Corridor and the Mumbai-Bengaluru Economic Corridor projects.
* BJP promised a National Multi-Skill Mission. Congress implemented National Skills Development Authority.
* BJP has promised a 'Clean River Programme'. Congress has already promised special purpose entities for cleaning of India's rivers.
An evidently miffed Congress, questions the manifesto committee of BJP, saying, "BJP's Manifesto Committee Chairman Dr Murli Manohar Joshi said his party held "consultations with various sections such as traders, fishermen etc." When and where were these consultations held? Did any prominent leader of the BJP such as Shri Narendra Modi or Shri Rajnath Singh participate in these consultations?"
They also criticised BJP's stance on the Uniform Civil Code, Article 370 and construction of a temple in Ayodhya. "It shows the BJP is a communal party, which only advocates divisive issues and can never speak for every Indian."
"BJP's agenda is not India's development." it says in conclusion.
Also read: Lok Sabha polls 2014: Comparing Congress and BJP's election manifestos
For more election updates, visit dna's Lok Sabha elections 2014 page