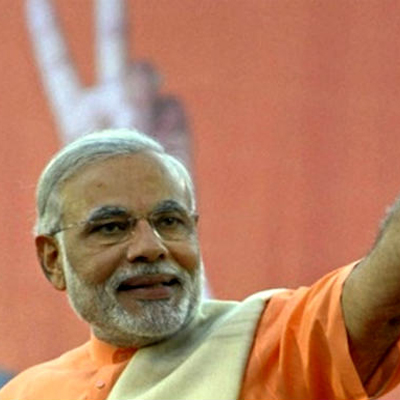 Post the 'saffron wave' that swept the nation early this morning, Congress leaders have accepted defeat and are beginning to congratulate the new Prime Minister, Narendra Modi. Several party spokespersons have finally stepped up on social media as well as on several news channels to congratulate Narendra Modi and accept the utter annihilation of the party in the 2014 Lok Sabha Elections.
V r gracefully concede d defeat. But v hv d legacy of rejuvenating ourselves. V wl listen 2 ppl voice n do d same.Congrats2 BJP n Modi !!

— Jothimani (@jothims) May 16, 2014
Respect people's verdict and congratulate #BJP. We will learn from our mistakes and strive to regain the faith of the people of india.

— Roji M John (@rojimjohn) May 16, 2014
Results are very disappointing but I respectfully accept the verdict & wish BJP/NDA the best! Mr. Modi's impact is clear. 1/2

— Salman Anees Soz (@SalmanSoz) May 16, 2014
Amidst their defeat however, Congress politicians continue to reiterate a single statement- "It is never Rahul Gandhi's fault". As a preemptive attempt to shield their leader,Shakeel Ahmed, the general secretary of AICC, on the release of the Exit Polls stated,"Rahul Gandhi is not in the government. He is number the number two leader in the party. Sonia Gandhi is the president. Then, naturally there is local leadership. Whatever be the result will be a collective (responsibility)".
A similar statement was made by Union Minister, Kamal Nath on Tuesday, who said, "Election results are a reflection on what people's perception of the government functioning was... To dismiss them (good work) and say we did nothing in 10 years is wrong. Rahul Gandhi was never part of the government".
The call of 'collective responsibility' resonates among Congress party members, and even among members of the Youth Congress.
those congress candidates who are losing elections should not blame party ... It is equally their fault @INCIndia @yuvadesh @IYC

— satyajeet tambepatil (@satyajeettambe) May 16, 2014
Rahul Gandhi's accruing to politics in March 2004 were all in the hope of the Congress finding the ability to re-invent itself among the Indian youth, thus redesigning it's political image and fortune across the nation. However, these prospects were subsequently crushed when the public attitude towards his initiatives were austere. Rahul Gandhi's success has generally been attributed simply to his family lineage and his success in Amethi particularly, to the identity politics identified with the Gandhi family there.
Concurrently, the NDA revels in it's victory, with celebrations ensuing all across the nation. The nation waits with bated breath for the swearing-in ceremony of the new Prime Minister, set to be on May 21.