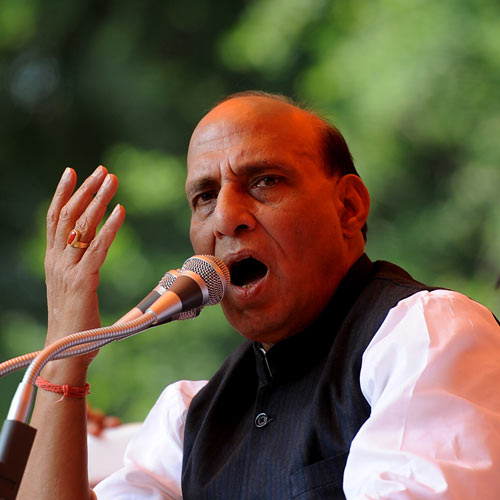 Buoyed by the party's success in recent assembly elections in four states, BJP has asked party workers to now focus their attention on party's 'Mission 272+' to return to power at the centre.
Addressing the party's national office bearers here on Thursday evening, BJP president, Rajnath Singh said that Congress has lost its ground in these states and it has admitted that it would lose the general election as well.
Singh was addressing the national office-bearers' meeting ahead of the national executive on Friday, and national council meeting on Saturday and Sunday. "Congress will play dirty tricks like making baseless allegations, dragging our PM candidate Narendra Modi's name in false cases or supporting a small political entity to derail our campaign. We should not be distracted by these tricks," Singh told party colleagues.
The political and economic resolutions to be adopted by the national council will be placed before national executive on Friday. Party national spokesperson Prakash Javadekar is drafting the economic resolution and deputy leader of opposition in Rajya Sabha Ravi Shankar Prasad is preparing the political resolution. The economic resolution will be moved by leader of opposition in Rajya Sabha Arun Jaitley, and the political resolution by leader of opposition in Lok Sabha Sushma Swaraj. Party spokesperson, Sudhanshu Trivedi said the economic and political resolutions will highlight the current problems and the solutions party is offering on these issues.
The political resolution will focus on the misgovernance of 10 years of UPA government hit by a series of scams and present itself as a strong alternative to the Congress. It will also focus on neighbouring countries, foreign policy, internal security and corruption.