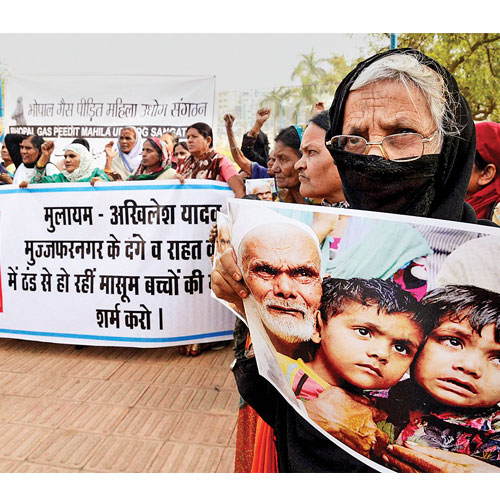 The Prevention of Communal and Targeted Violence (Access to Justice and Reparation) Bill is still hanging fire but if it manages to get enacted in its present form, states would have to be extra cautious not to allow an incident take an ugly turn like Muzaffarnagar riots where thousands of people are still perishing in relief camps.
While the Centre bowed to some demands of the states and dropped a couple of provisions from the bill to make it more amenable to the federal character, an essential feature that remains intact and puts the onus on the state governments to contain communal situation is the provision of establishment of communal violence reparation fund.
Section 81A of the draft legislation calls for establishment of Communal Violence Reparation Fund (CVRF) that would derive funds from the Consolidated Fund of India for immediate disbursal of compensation to the riot victims and adds a caveat that such funds made available shall be recoverable from monies as may be payable to the state governments by the central government.
Applied by the state assessment committee, the CVRF will be used for disbursal of amounts in settlement of claims registered with the district assessment committee and for relief, rehabilitation and reparation provided under the act.
Official sources said, in simple terms it means that the onus will be on the state if it fails to prevent a riot and shall have to bear the penal cost that would be deducted from share of the taxes that the State receives from the central government.
In the present system, the Centre gives money to the state/s to undertake relief and rehabilitation measures in the aftermath of communal violence. Unlike in the current situation where it is the state government's prerogative to establish and remove relief camps, the draft legislation takes elaborate care of the victims in the aftermath of an organised communal violence.
The bill clearly states that relief camps shall not be closed unless all internally displaced persons have been voluntarily rehabilitated in accordance with norms made in consultation with the NHRC.