Tarun Gogoi's government responsible for Assam violence, says Shahid Siddiqui
Former Member of Parliament (MP) on Sunday said that Assam chief Minister Tarun Gogoi and the Congress is responsible for what is happening in Assam adding that the government is encouraging such terror activities.
"Gogoi's government is completely responsible for what is happening in Assam. In fact, one of the ministers said that this was a way of taking revenge, as Muslims had not voted for the Congress party. The government is encouraging such terror activities," said Siddiqui.
Comments of politicians aggravating Assam flare-up: Mamata Banerjee
West Bengal Chief Minister Mamata Banerjee today expressed concern over the flare-up in Assam which claimed 32 lives and alleged that "certain comments" of some political figures, including those by an aspirant of high office, are adding fuel.
"Their language must be controlled and they should not play politics with fire where innocent lives are involved," Banerjee said on Facebook apparently hinting at BJP prime ministerial candidate Narendra Modi without taking hsi name.
Narendra Modi today said in an election meeting in Bankura that Bangladeshi infiltrators, who were allowed into the country for votebank politics, would have to go back, while refugees who have been thrown out of Bangladesh on religious grounds would be greeted with open arms.
"BJP's position is very clear, votebank politics has destroyed the country... Those who are Bangladeshi infiltrators, will have to go back," Modi had said earlier.
Assam carnage could have dangerous consequences for India: PDP
Opposition Peoples Democratic Party (PDP) in Jammu and Kashmir today condemned the violence in Assam, and warned that such "senseless and targeted carnage" could have dangerous consequences for the country.
Opposition Peoples Democratic Party (PDP) in Jammu and Kashmir today condemned the violence in Assam, and warned that such "senseless and targeted carnage" could have dangerous consequences for the country
Assam carnage could have dangerous consequences for India: PDP
Eight of 14 injured in twin bomb blasts discharged
Eight of the 14 injured in the recent twin bomb blasts on the Kaziranga Express, have been discharged from the Rajiv Gandhi Government General Hospital here following their complete recovery, hospital sources said.
"Passengers Jitendra Mohanto Deka, Altaf Khan and Murali were discharged on Friday. Yesterday and today a total of five persons have been discharged," an hospital official said.
Assam CM Tarun Gogoi apprises Sonia of BTAD situation
Assam Chief Minister Tarun Gogoi today apprised UPA Chairperson Sonia Gandhi of the prevailing situation in Bodoland Territorial Area Districts (BTAD) and the measures taken by the state government to restore peace in the area.
Some passengers may be injured after a passenger train derailed between Nagothane and Roha in the Raigad district of Maharashtra at around 9.20am.
Engine and 4 coaches of 50105 Diva-Sawantwadi Road Passenger derailed between Nagothane and Roha stations (136 km from Mumbai) at 09.40 hrs on 4.5.2014.
* Home Minister Sushilkumar Shinde said that in the last few days, there have been wanton acts of depredation leading to death of 32 people, mostly women and children, and of them, 31 belonged to the minority community. "These innocent lives were lost at the hands of cadres of certain group. The objective of this group seems to be aimed at starting a full-fledged communal conflagration," he said in a statement.
* A militant Hindu organisation called the 'Hindu Sena' on Sunday protested against the Assam violence by tearing apart posters of All India United Democratic Front (AIUDF) chief Badruddin Ajmal outside his residence. Read more
* Protests in Baksa as relatives refuse to bury the dead. Demanding that Chief Minister Tarun Gogoi visit their area, people of Salbari in Assam's violence-hit Baksa district today refused to bury their kin killed in attacks by NDFB-S militants. Angry protestors in Nankekhadrabari area today said they will not perform the last rites of the bodies of the 18 people, including children and women, till Gogoi comes and personally assures to provide security to their lives and property. Read more
* Even though no incidences of violence have reported over night, curfew continues to applied in the affected towns.
ALSO READ: Assam violence: Power politics to blame for Bodo attacks
* Centre dispatched 10 companies (approximately 1,000 personnel) of central forces.
PHOTOS: Horrifying images of violence throw light on brutality of the Assam violence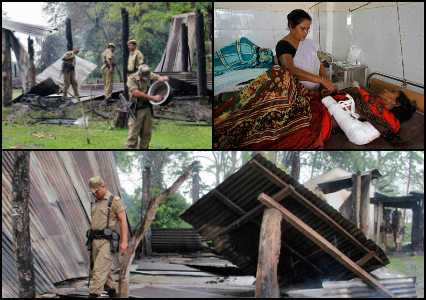 * Assam MLA Piyush Hazarika, reportedly, alleged that there was "clear evidence" to prove Narendra Modi's involvement in the attacks. He claimed that the BJP had forged an alliance with the two NDFB factions, Songbijit and Ranjan Daimary.
However, the Bodo militant group NDFB (Songbijit) denies responsibility of violence.
* Congress condemns Assam violence, blames BJP for 'communal agenda'
* Indian army deployed in Assam after 31 people killed
* Assam violence: BJP blames 'vote-bank' politics of Congress
* Chief Minister Tarun Gogoi who chaired a cabinet meeting decided to hand over investigation to the National Investigation Agency to find those responsible for the violence. "Let the NIA investigate who is involved. None will be spared if found responsible for the violence", Gogoi told reporters after the meeting here. "I want to coordinate with neighbouring Bhutan as the militants may hide there after committing the crime. If the NIA comes then that can be done," the chief minister said. Read More
* Tarun Gogoi seeks NIA probe into Assam violence
* According to DG-Assam, the number of dead bodies in Baksa and Kokrajhar recovered is at 32. However, unofficial sources say the number of dead could go upto 50
READ: Why terror is the easiest way in Kokrajhar?
* Prime Minister Manmohan Singh expressed "shock and grief" and said "such attacks are cowardly attempts to spread fear and terror among our citizens." Read more
* Assam Minister of State for Border Areas Development Ahmed Siddique blamed the Bodoland People's Front for recent spate of killings in Assam. He termed the killings as election related violence.
ALSO READ: dna edit: Renewed violence in Kokrajhar shows that Congress government in Assam has failed to protect minorities
* Congress leader Kapil Sibal, today, accused the BJP leaders of inciting violence in Assam, "BJP leaders are fanning violence in Assam."
He also added, "BJP leaders and supporters using morphed pictures to spread communal propaganda on social media."
The PM's Office put out a statement, today, urging the people in Assam to remain calm. It assured them that Central Govt and state govt will be taking all measures to maintain law and order
* However, BJP leaders have hit out at prime minister Manmohan Singh for inaction in the Assam violence. "'Why is PM silent on Assam attack? Why no action on atrocities against minorities in Assam?," questioned BJP's Shahnawaz Hussain
* Nine more bodies have been found in the Baksa district of Assam, after the last count of 22 given by the officials on Friday night.
The police have arrested 12 people in Baksa and another 8 have been taken in for questioning in Kokrajhar.
A curfew has been clamped in Assam's Baksa and Kokrajhar districts after the death toll in the targeted killings by suspected Bodo militants has risen to 32. The army has carried out flag marches, and shoot-on-sight orders have been issued in both the districts.
* Biswajit Daimary, Bodoland People's Front, said, "Hope situation in Kokrajhar will be controlled,these anti-social culprits must be punished."
* Congress President Sonia Gandhi today decried the role of sectarian and militant groups, expressing deep anguish and sorrow over the tragedy. Gandhi said, "the inherent plurality of India will never let divisive and violent forces succeed." She also said Congress party and the entire country stand with the family of those killed in the attack. Read more
* Prime Minister Manmohan Singh is keeping a close watch on the Assam situation in the wake of violence in two communally-sensitive districts of the state that has claimed at least 32 lives.
Late on Friday evening, 12 bodies were recovered in the villages of Narayanguri and Khagrabari adjoining each other on the fringes of Manas National Park in Baksa. A group of militants reportedly belonging to the outlawed National Democratic Front of Bodoland (Songbijit faction) stormed the Naraynguri area, and fired indiscriminately, killing at least nine people on the spot.
According to reports, seven women and two men were among the dead. The rebels also set around 50 houses on fire in the area. After the attacks many of the villagers from the above-mentioned districts fled to nearby villages to be safe. Most of the people living in these areas are non-Bodo people.
Ethnic riots between tribal Bodos and Bengali-speaking Muslims in BTAD in 2012 had claimed over 100 lives. The opposition parties besides groups and organisations sniffed a political conspiracy in the attacks given the growing dissidence within the ruling Congress in the state. They demanded Assam Chief Minister Tarun Gogoi resign immediately owning 'moral responsibility'. The attacks prompted the authorities to rush additional forces to the restive areas and Gogoi to cancel his official visit to Germany.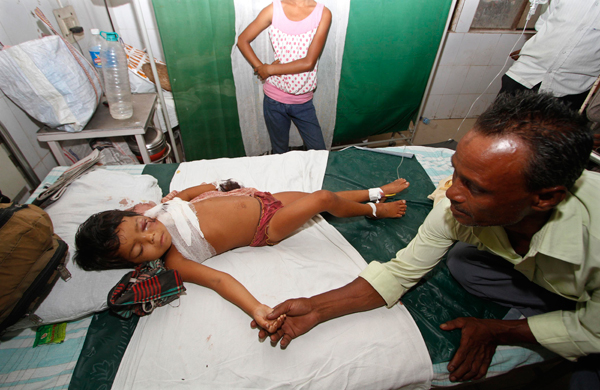 Four-year-old Taslima Khatun, who was injured in an attack, is comforted by her grandfather inside a hospital in Guwahati, Assam. Image credit: Reuters
The army staged a flag march to instill confidence in the minds of people even as curfew was clamped in the sensitive and vulnerable areas. Union home minister Sushil Kumar Shinde called up Gogoi and assured him of all help in controlling the situation.
Reports suggested that hundreds of families fled to neighbouring Dhubri district fearing fresh attacks. Bishnoi said the administration managed to convince people in at least five villages to not flee.
Besides Chirang and parts of Dhubri districts, indefinite curfew has also been imposed in Kokrajhar and Baksa districts where 23 people were killed. The violence started when heavily armed NDFB-S militants entered a house and shot dead three members of a family, including two women, and injured an infant of a minority community near Ananda Bazar area in Baksa district on Thursday.
The All Bodoland Minority Students' Union (ABMSU) held Bodoland People's Front (BPF), which runs the Bodoland Territorial Council, responsible for the bloodbath. "We suspect the hand of BPF because the attacks were perpetrated a day after BPF leader Pramila Rani Brahma's assertion that the party candidate might lose as he didn't get the votes of Muslims in the parliamentary election for the Kokrajhar seat," said Lafikul Islam Ahmed, a leader of ABMSU. But the Bodoland People's Progressive Front believed that the attacks were the result of a 'political conspiracy'.
Non-Bodos constitute over 70% of the voters in the Kokrajhar seat. A conglomerate of 22 influential non-Bodo organisations had backed a former Ulfa leader, who contested as an independent. "It could be a conspiracy of the state government. It was perhaps done to divert the attention of people from the growing dissidence among Congress legislators. It happened in 2012 when Gogoi was faced with rebellion from within," said BPPF leader Rabiram Narzary.