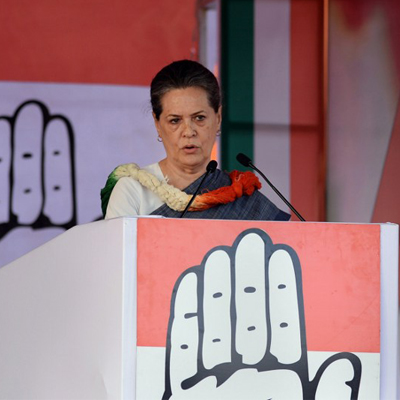 Congress President Sonia Gandhi said that the upcoming election is basically a fight between two separate ideologies, while addressing a public rally in New Delhi.
"This election is basically a fight between two ideologies. One the one hand there is an ideology that wants to bring differences among fragmentation of society and on the other hand is Congress party, which wants to bring unity among different sections of the society. The former ideology propagates orthodoxy and we the Congress party see the society in the frame of unity," said Gandhi.
She also attacked the Bharatiya Janata Party (BJP) for creating the propaganda of being the only nationalist party.
"Nowadays some people are creating the propaganda of being nationalist. If anyone wants to see the level of nationalist then they should remember the sacrifices of Congress leaders and the soldiers who are fighting for the country on borders," added Gandhi.
Congress had released its election manifesto on March 26, which promised inclusive growth for all sections of society from poor, middle class to business class, in its last attempt to fight anti-incumbency in mammoth general elections 2014 of the world's largest democracy.
Prime Minister Manmohan Singh, Congress President Sonia Gandhi, and Vice President Rahul Gandhi had unveiled the manifesto, focusing on poverty, women, youth and minorities.