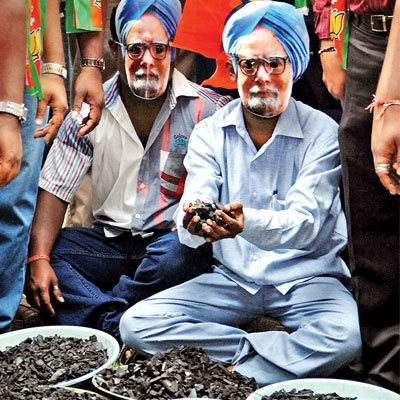 The Enforcement Directorate on Monday registered a case of money laundering against former minister of state in the coal ministry Dasari Narayana Rao and Congress MP Naveen Jindal in connection with its probe in the coal blocks allocation case.
The FIR was registered under the Prevention of Money Laundering Act (PMLA), and the charges were framed, based on alleged multiple transactions between Jindal's companies and Rao's firms based in Hyderabad. The "illegal money" was allegedly routed for favours given for the allocation of coal blocks to Jindal in Jharkhand in 2008 by Rao.
The investigations in the coal blocks allocated to Jindal Steel and Power Limited in Jharkhand in 2008 had revealed that the allocations took place after the company allegedly misrepresented facts about land and water supply to establish their eligibility. After the block was allocated, Jindal's companies allegedly invested in Saubhagya Media, a Hyderabad-based firm, in which Rao's company Siri Media Ltd owns 59.6 per cent stake.
Jindal allegedly bought shares worth Rs2.25 crore at a price of Rs100 each, when the listed price of Saubhagya Media was Rs28 only. The alleged transactions established quid pro quo, according to the CBI.
The other companies being probed by the ED include Gagan Sponge Iron Pvt Ltd, Jindal Steel and Power Limited (JSPL), Jindal Realty Pvt Ltd, New Delhi Exim Pvt Ltd, Saubhagya Media Ltd besides unknown persons.
Acting on the complaints, CBI has also registered a case under the Prevention of Corruption Act against these individuals and firms. The ED is also evaluating movable and immovable assets of those named in the FIR, besides banking and other transactions.
Earlier in May, ED had issued directions to its various zonal offices across the country to initiate investigations under the Prevention of Money Laundering Act (PMLA) in the financial dealings of the companies, booked by CBI in this case. ED would also investigate any foreign exchange contravention by these companies, which have been asked by the agency to submit all the relevant documents.