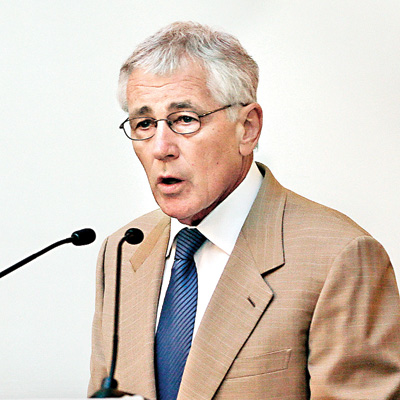 Visiting US secretary of defence Chuck Hagel said that India need not "choose" between closer partnership with America or improved ties with China.
"Just as America need not choose between its Asian alliance and a constructive relationship with China, India need not choose between a closer partnership with America and improved ties with China," Hagel said on Saturday at an event organised by New Delhi based think-tank. He acknowledged tensions over China, but said that the US and India must continue to work together on regional issues while avoiding "traps of rivalry".
At the same time, Hagel, who has invited Prime Minister Narendra Modi to the Pentagon, urged India to have a trilateral security cooperation with Japan and the US so that the three nations can increase their defence cooperation.
Concluding his three-day visit, Hagel said that the US and India must seize opportunities to collaborate on military hardware development and not allow government red tape and other problems stymie progress between the two nations.
Hagel recalled former union minister Jaswant Singh, who is in coma after a head injury, for transforming Indo-US bilateral ties. "Our thoughts today are with Jaswant Singh, whom we all know is one of India's most distinguished soldier-statesmen. He transformed India-US relations during Atal Bihari Vajpayee's government."
Big talk
US defence secretary Chuck Hagel drew an unlikely parallel between the Indian and US democracy on Saturday. He said: "There are few places in the world other than India and the US where the son of a tea-seller in a small-time town can rise to be the Prime Minister (Narendra Modi) or the child of a Kenyan father can rise to be the President (Barack Obama)."