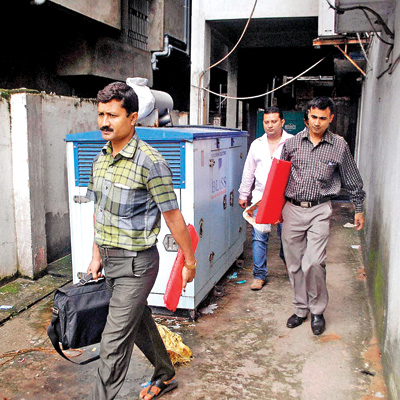 The CBI on Saturday arrested a senior functionary of an Odisha-based chit fund company in connection with a multi-crore ponzi scam after finding him holed up inside a well at the back of his residence in Bhubaneswar.
After carrying out searches at 60 locations in Mumbai and Odisha, the agency zeroed in on Sambit Khuntia, director of Artha Tatwa group and a local level Congress leader, who has been evading arrest for nearly a month.
When the CBI team reached his Bhubaneswar residence on Saturday morning, his wife and mother claimed that Khuntia was not at home, agency sources here said. However, Khuntia's luck ran out as the sleuths found him hiding in the well in the backyard of his house.
The CBI conducted searches at 60 places in Odisha and Mumbai, including the residence of BJD MLA Pravata Tripathy, secretary of Odisha Cricket Association Ashirbad Behera and others in connection with the multi-crore chit fund scam.
The role of Tripathy is being probed for his alleged links with Artha Tatwa Group which is among 44 firms in Odisha under CBI scanner for duping investors through fraudulent investment schemes. The raids were also conducted at the residence of a TV producer and a stock broker in Mumbai.
The investigating agency carried out the raids to establish money trail in chit fund scam, popularly known as Saradha scam, that Supreme Court observed involves collection of Rs10000 crore from the general public, especially weaker sections of society in West Bengal, Odhisa and Tripura and Assam.
The accused companies or individuals, as per the CBI FIR were involved in cheating, criminal breach of trust and criminal conspiracy.
The CBI started the search operation at multiple locations including Bhubaneswar, Baleswar, Bhardak, Berhamapur and Mumbai. In Bhubaneshwar alone, raids were conducted at 54 places. The houses and offices of chairman-cum managing director Pradeep Sethy in Berhampur and other directors of Artha Tatwa Group and their relatives were also raided. Sethy and four directors of the AT Group are currently lodged in jail over charges of duping depositors' funds worth crores of rupees. The CBI also conducted raids at the residence of Deepak Parikh, a stock broker in Mumabi, who had allegedly obtained license from SEBI & MCX for the AT Group.
Also, the residence of the proprietor of local newspaper Surya Prabha, Bikash Swain and former Congress youth leader Samdit Kuntia were also searched. In Mumbai, CBI conducted raids at the residence of a television producer, Preeti Bhatia.
According to reports, Tripathy confirmed that the CBI conducted searches at his premises, however, he denied of having any involvement in the scam. "I don't have any connection with the chit-fund scam and CBI has not recovered any documents from my house," he told reporters.
The Special Investigation Team of CBI, headed by Joint Director Rajeev Singh, following the orders of SC is also probing the role of marker regulator like Securities Exchange Board of India (SEBI)and Reserve Bank of India(RBI).
The Parliament Standing Committee on Finance also debated the issue of ponzi schemes and based on its reccomendations, the government empowered SEBI to take action against ponzi schemes and illegal deposit taking schemes. One of the the provisions of the new Bill approved by both the houses prescribes mandatory registration of money pooling scheme amounting to Rs100 crore or more.