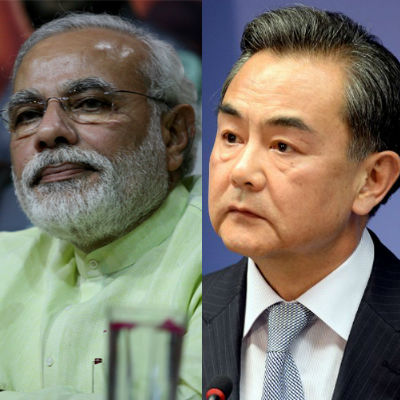 Prime Minister Narendra Modi's warmth and business-like approach towards China was reciprocated here on Sunday by its visiting foreign minister Wang Yi.
Yi described Modi "a great friend of China" who has visited their country as Gujarat chief minister. In the first high-level interaction with the new dispensation, Wang and his Indian counterpart Sushma Swaraj agreed to permit Chinese investments in India in various sectors by setting up industrial zones and parks.
Analysts believe while former Prime Minister Manmohan Singh had found a special place in Washington for his scholarship and an easy attitude, Beijing seems to have discovered their match in Modi, who, they believe, is systemic and methodical like them.
Wang said the new government has injected vitality into an ancient civilization and his country was ready to engage with the Modi dispensation.
Another feather in Modi's Chinese cap could be the incorporation of nuclear issues in bilateral engagements. Over the years, Beijing has refused to recognise India as a nuclear power and has never allowed nuclear CBMs and related issues to land at the table.
A key negotiator with the former UPA government, claiming credit, told dna it was they who made Beijing to agree on bilateral nuclear discussions just six months ago. Continuing with the usage of Hindi as diplomatic language, Swaraj started her remarks in the official language and then switched to English.
The urgency of the Chinese to engage with India also stemmed from the apprehension that the Modi government may revive the ghost of George Fernandes on Tibet, when he was defence minister in the previous NDA government 16 years ago.
This apprehension had gained strength with reports that an influential section within the government, backed by the RSS, was pushing to raise the hackles against China, which is right now facing a tough time over its maritime disputes with Japan in East China Sea and with Vietnam and the Philippines in the South China Sea amid a major US military push into the Asia-Pacific.
The Chinese took the queue from the BJP extending invitation to the Tibetan prime minister-in-exile, Lobsang Sangay to the swearing-in ceremony of Narendra Modi.
RSS spokesman Ram Madhav made it clear, asking Modi to revisit the China policy, as the threat to the country stems not from Pakistan, but from China. "On the eve of the visit of China's foreign minister Wang Yi, India should revisit its China policy. The Indian leadership should understand one basic truth. It hardly matters in China's context as to how many times our leaders have visited China or vice-versa," he said.
Modi, during election rallies, had also warned China to shed its "expansionist mindset". China had hit back, saying it "never waged a war of aggression to occupy any inch of land of other countries".
Amidst two differing views within the government and ruling party, analysts say Modi will have to traverse a fine balance with China, which is India's biggest trading partner, with two-way commerce totalling close to $70 billion. India's trade deficit with China has soared to over $40 billion from just $1 billion in 2001-02. The Modi government is planning to bridge it by inviting Chinese investment in the country and also seeking greater access to their market, with the two sides targeting annual bilateral trade of $100 billion by 2015.
External affairs ministry spokesperson Syed Akbarudin said the two sides on Sunday discussed the possibility of at least half a dozen bilateral meetings between the two countries later this year, including those at the level of the president, vice president and prime minister. Yi will call on President Pranab Mukherjee and PM Modi on Monday.