China ready to import more from India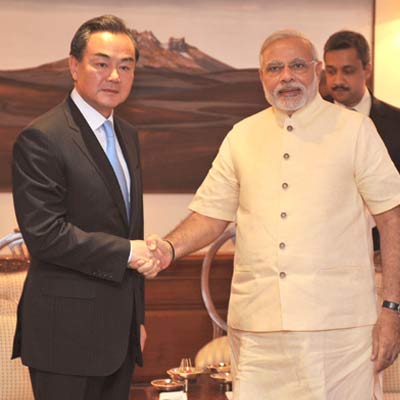 At the end of his two-day visit to India, Chinese Foreign Minister Wang Yi in a free-wheeling press conference on late Monday evening, said that he felt the winds of change in the new government and that the international community has high expectations of the new dispensation. He was confident that under Prime Minister Narendra Modi, that both India and China relations would achieve greater progress and modernisation.
Wang Yi emphasised that there were more commonalities than differences and greater cooperation than competitiveness between the two countries. Wang had called on President Pranab Mukherjee and PM Modi earlier in the day. He said that Modi had told him of the visit of seventh century CE Chinese Buddhist traveller Zuan Zhang to Gujarat, and that they have agreed to launch a Zuan Zhang cultural exchange programme. He also admitted that India was one of the priorities in China's foreign policy and that if China too was a priority for India, then the relations between the two countries would grow faster than ever. He said that as India had the Look East policy, China, too, is looking to the west.
Read Also: Chinese Foreign minister Wang Yi signals new effervescence in bilateral ties with India
The Chinese foreign minister did not duck questions on prickly questions, especially on the prickly issue of stapled-visas. He said that it was a concession on the part of the Chinese government to help local people in the eastern sector to travel in an area where there was a border dispute and many of the areas were also un-demarcated. He said that this would have no effect on the border talks and he disclosed that the framework for the settlement of an issue which is a historical legacy is at a crucial stage. "The stapled visa is way out until the final settlement. It does not affect the border talks," he said.
On the issue of incursions, he said that they are inevitable in an area where the borders are un-demarcated, and he felt that though the media is tempted to play it because it makes for good news, there is more to India-China relations than this issue. He has also pointed out that peace and tranquility has been reigning between the two countries.
On the issue of trade deficit, another contentious issue from the Indian point of view, Wang Yi pointed out that China was willing to import more from India, and that the present India-China trade volume was much too small. He pointed out that the Chinese visitors to foreign countries were the largest anywhere in the world, but there were only 150,000 Chinese tourists who had come to India. He said that this number could easily go up to a million.
Wang Yi has also expressed Chinese interest in investing in India. He revealed that China had an expertise in high speed trains and that in one of its bullet trains which travelled at a speed of 320 km per hour, a glass of water would remain still. He said that China would be willing to help Indian in building high speed trains, an expertise which was China's own, and that his country was also good in building express ways.
He pointed to the complementary nature of Chinese and Indian economies. He said that China was strong in infrastructure and manufacturing, while India's strengths were in software and services, and if the two countries came together then they could dominate world economy.
Read Also: Chinese foreign minister Wang Yi meets Indian counterpart Sushma Swaraj to improve Sino-Indian ties