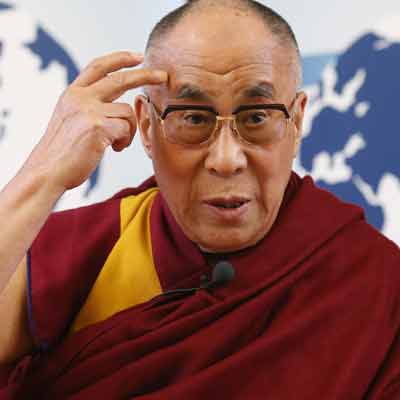 China on Wednesday denounced Tibet's exiled spiritual leader the Dalai Lama for his call for Beijing to join the mainstream of global democracy on the 25th anniversary of Tiananmen Square crackdown, saying his comments were made with ulterior motives.
"The true face of Dalai is known to all. His statement has ulterior motives," Chinese Foreign Ministry spokesman Hong Lei told a media briefing here as the Dalai Lama marked the sensitive anniversary of the Tiananmen Square crackdown by urging China to embrace democracy and offering prayers for the protest "martyrs".
In a rare move, the 78-year-old Tibetan leader offered prayers to the hundreds of pro-democracy activists who were killed in military crackdown at Tiananmen Square in Beijing on June 4, 1989. "I offer my prayers for those who died for freedom, democracy and human rights," the 1989 Nobel Peace Prize winner said in a statement released in Washington.
"While great progress has been made to integrate into the world economy, I believe it is equally important to encourage China to enter the mainstream of global democracy. In this anniversary of China's young martyrs, let us pray that the Chinese leaders of today would turn their hearts away from fear and defensiveness that they would reach out to the victims and victims' families, and repent of the massacre of China's youth," he said.
Asked about a meeting planned to be held by overseas Tibetan groups in Dharmasala tomorrow to seek autonomy for Tibet, Hong said "we would like to advise these people to give up attempts to separate Tibet from China". When reminded that these groups want autonomy not separation, he said, "My answer has strong basis." Talks between China and the representatives of the Dalai Lama to discuss autonomy were stalled since 2010.
Chinese officials say that the Tibetan spiritual leader's demand for autonomy included China integrating all Tibetan regions with complete autonomy and handing over of all powers except the defence and foreign affairs, which is not acceptable to China as it virtually amount to separation.