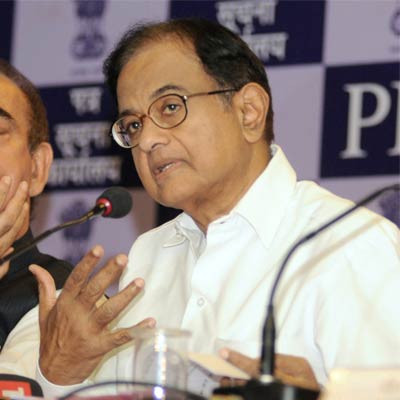 Finance Minister P. Chidambaram said Tuesday that fiscal 2013-14 was a difficult year despite positive movement towards greater stability.
Reviewing the annual performance of Public Sector Banks (PSBs) and Financial Institutions (FIs) for fiscal 2013-14 here today, Chidambaram expressed the need for structural reforms to tackle inflation, especially food inflation, which could not be tackled through fiscal and monetary policies alone.
He also said that tougher measures are needed against wilful defaulters.
He said that the position that 'promoter is prosperous but company is sick' is not acceptable. He asked the banks to form a consortium and take joint action against such defaulters.
Issues related to Non-Performing Assets (NPAs) of PSBs and measures for prevention of new accretion to NPAs were discussed. Flow of credit to the agriculture sector, including priority sector lending, education loans, minority lending, MSME credit were discussed.
In addition, issues related to stalled projects, new projects having a bearing on the functioning of PSBs and progress on financial inclusion were raised.
Annual results of 19 PSBs for fiscal 2013-14, which have been declared so far were analysed at the meeting.
As against the stated target of 40 per cent Adjusted Net Bank Credit (ANBC), the PSBs have done Priority Sector Lending (PSL) to the extent of 37 per cent of ANBC.
Within the PSL, the advances to weaker section have been at 10.6 per cent of ANBC as against the stated target of 10 per cent and minority lending has reached a level of 16.09 per cent as against the target of 15 per cent. The number of students availing Education Loan has gone up to 25.72 lakh accounts with a credit outstanding of Rs.58,265 crores.
Banks have also done lending of Rs.7,511 crores to micro and small enterprises during 2013-14. Out of this, the percentage of allocation to Micro Enterprises is 52.81 per cent and there has been a growth of 14.15 per cent in terms of number of Micro Enterprises covered during the year. In terms of credit growth to MSE growth has been 23.01 per cent during the year.
The housing sector, including priority sector housing saw a growth rate of 18.4 per cent during the year, with a total lending of Rs.5.408 lac crores to housing sector.
The total outstanding as on 31st March to housing sector by PSBs is Rs.3.72 lakh crores. NPA in housing loan reduced from 1.8 per cent in fiscal 2012-13 to 1.47 per cent in fiscal 2013-14.
It was noted that banks have opened more than 10,000 branches during 2013-14 which is the highest ever. Out of that, PSBs alone have opened 7,840 branches in the country in 2013-14 which is a major improvement from the average 4,000-4,500 branches that they normally open every year.
Banks have set up more that 25,000 on-site ATMs which is two and a half times the 10,000 ATMs that they usually set-up every year.
Besides it, more than 15,000 ATMs have been opened off-site and thus, more than 40,000 ATMs have been opened during 2013-14.
The slowing down of the economy has impacted the results of the banks. Year on year deposit growth of 19 PSBs as on 31st March, 2014 was 11.43 per cent and advances growth was 10.69 per cent.
Gross NPAs had increased and net profit had decreased vis-a-vis the performance reported in 2012-13.
The sluggishness in the domestic growth during the recent past and the tepid recovery in the global economy have impacted the NPAs. Gross NPAs of PSBs have risen from 3.84 per cent as on March, 2013 to 4.44 per cent as at the end of March, 2014.
However, from a peak of 5.07 per cent, GNPAs in the third quarter ending December, 2013, these have come down to 4.44 per cent (provisional) in the last quarter of the year ending March, 2014.
The top 30 NPAs of PSBs account for 40.2 per cent% of their GNPAs.
The CEOs of PSBs reported the measures being taken to bring down the NPAs. Chidambaram asked them to redouble their efforts on recovery and take tough measures against wilful defaulters.
Apart from Chidambaram, Namo Narain Meena, Minister of State for Finance, Dr. Gurdial Singh Sandhu, Secretary, Department of Financial Services, Snehlata Shrivastava, Additional Secretary, DFS, CEOs/CMDs of Public Sector Banks(PSBs) and Financial Institutions(FIs) along with other senior officials of the ministry, attended the meeting. (ANI)