A total of 26 people have been rescued so far from the under-construction 11-storeyed building that collapsed on Saturday after heavy rains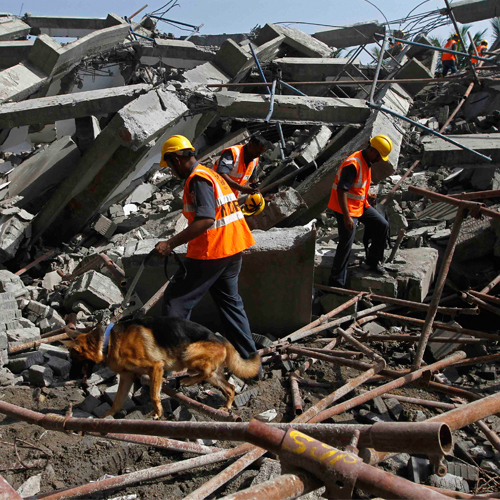 Eight more bodies were recovered from the rubble of the collapsed building in Chennai on Tuesday, taking the toll from Saturday's disaster to 28, even as emergency workers pulled out three more survivors from the debris. Authorities said they expected to wrap up rescue efforts by the end of the day.
A total of 26 people have been rescued so far from the under-construction 11-storeyed building that collapsed on Saturday after heavy rains, as non-stop rescue efforts, involving multiple agencies, entered the fourth day. Officials said more than a dozen people were still believed to be trapped in the debris.
Karuna Sagar, a senior officer with the Tamil Nadu state police force, said the three latest survivors were rescued overnight as hundreds of rescue workers toiled round the clock. "Three people have been pulled out alive. One late at night and two others early this morning. They have been taken to the hospital," Sagar told AFP by phone. "There may be another 15-20 trapped, but rescue efforts are in progress and going according to plan."
D Chandran, a state administration officer, said a total of 26 survivors had been rescued since Saturday night but he indicated that the operation was drawing to a close. "The search is still on. We are trying to do everything to save people," Chandran said. "With a lot of debris removed, search will become faster and (rescue efforts) will likely close before end of today."
Reports said that one of the survivors rescued early Tuesday was a construction worker who was one of several dozen entombed by a mass of concrete on Saturday night. Television footage showed rescuers wearing hard hats and masks carrying the victim on a stretcher down a hill of debris to an ambulance.
"Mahesh was rescued alive today besides two others. He has indicated that several persons are alive under the rubble including his wife. This has enthused rescue personnel," Director, Public Health, K Kulandaisamy told PTI.
He said they were hopeful of rescuing more persons on Tuesday. "We are very hopeful and positive. Also, there are indications about the likely location of the survivors under the rubble. We hope that survivors should be holed up in that location", he said.
Kulandaisamy said there were indications that the first and ground floors of the building had not fully crumbled. "It is the guess of rescue personnel going by the account of the rescued man. We cannot say anything more now." Of the three rescued today, two belonged to Andhra Pradesh and they have been admitted in the SRMC. "They are stable," the official said.
Emergency teams used mechanical diggers and heavy-cutting equipment to try and find more survivors in the ruins of what was a partially-built 11-storey complex. Six persons, including two owners and two engineers, had been arrested under various sections of the IPC in connection with the building collapse.