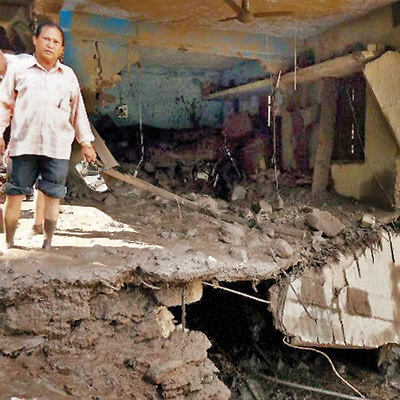 Even as the country is being hit by disasters – one after the other -- the latest being a massive landslide at Malin village near Pune that killed at least 30 people and then a cloudburst at Ghansali near Tehri in Uttarakhand where six people died, the foremost body to respond during such exigencies – the National Disaster Management Authority (NDMA) – lies virtually defunct without a functional head and most of its members.
The BJP led NDA government is yet to fill up posts of vice chairman and seven of the eight members that are lying vacant now for more than a month when a call by the union home secretary Anil Goswami forced them to resign. Besides vice chairman, Shashidhar Reddy who put in his papers before being told to do so, others included K M Singh, JK Sinha, Saleem Ali, JK Bansal, B B Bhattacharjee, Harsh Gupta and K N Srivastava.
NDMA staff and other official related with the disaster relief and rehabilitation work concede that absence of a clear-cut command at the Central level that was there in the form of NDMA has started showing in the immediate relief work.
"While it is true that NDMA was being used to park the favoured bureaucrats, it is also a fact that there is a perceptible delay in both response level and time that used to be there when NDMA was in full force as different members were given responsibility of different state and used to be the first one to contact at the highest level immediately in times of any disaster. Being directly under the Prime Minister as the chairman the NDMA wielded authority," said a senior government official not willing to be identified.
Officials connected to NDMA say that authority importance would have come into play with the monsoon failing in many parts of the country and threat of floods threatening several regions.
During Uttarakhand disaster, NDMA had played an important role in providing relief and rehabilitation work on a mammoth scale by immediately taking the reins in its hands and coordinating with all the central authorities, including Army and paramilitary forces.
"Its (NDMA's) presence did help in bringing down the colossal scale of loss that Uttarakhand flashfloods would have resulted in," said an official.
Sources said that while the BJP government is yet to finalise the names for NDMA, former home secretary R K Singh who won on BJP ticket from Arrah in Bihar is the front runner for the post of vice chairman.
Among front runners for the post of members are Bihar State Disaster Management Authority's Anil Sinha and Ranjit Banerjee who retired earlier this year as CEO of the Gujarat State Disaster Management Authority.
What NDMA does
Lay down policies on disaster management ;
Approve the National Plan;
Approve plans prepared by the Ministries or Departments of the Government of India in accordance with the National Plan;
Lay down guidelines to be followed by the State Authorities in drawing up the State Plan;
Coordinate the enforcement and implementation
Recommend provision of funds for the purpose of mitigation;
Take measures for the prevention of disaster, or the mitigation, or preparedness and capacity building for dealing with threatening disaster situations
Lay down broad policies and guidelines for the functioning of the National Institute of Disaster Management.