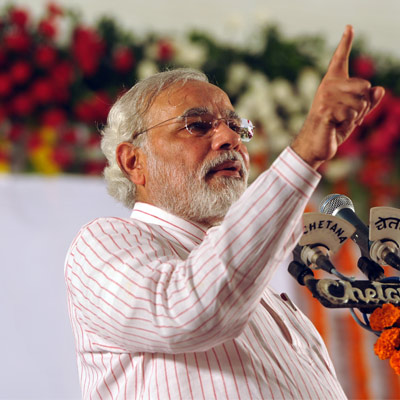 The visit of Pakistan prime minister Nawaz Sharif for the swearing-in ceremony of Narendra Modi would be more than a 'photo opportunity' between the two leaders, according to the officials privy to the development.
Sharif's visit could help in the revival of the official dialogue process between Islamabad and New Delhi that was suspended after the 2008 Mumbai attacks that were carried out by Lashkar-e-Toiba, a Pakistan-based militant group.
A day after the oath ceremony, two leaders are expected to meet for about half-an-hour at the prime minister's residence 7 RCR. Insiders claim that though this meeting would on the lines of 'getting to know each other', issues like violation of ceasefire pact by Pakistan Army at the Line of Control, infiltration and supporting terror camps in the Pakistan-occupied Kashmir, are also expected to be discussed during the meeting.
During Atal Bihari Vajpayee-led NDA government in 2003, the Ceasefire agreement between the two armies was implemented.
Last year, Pakistan Army had breached the ceasefire pact more than 250 times compared to 117 times in 2012 and 61 times in 2011. However, this year, the situation is relatively under control as there have been only 20-odd incidents of unprovoked firing by the Pakistani soldiers on the LoC.
Besides, unprovoked firing, several attacks were also carried out recently on indian troops by militants supported by Pakistan Army.
In January 2013, Pakistan Army with the help of militants had carried out a Border Action Team at Mendhar sector and beheaded two soldiers and in similar strike in August, five soldiers were killed in Poonch sector. A month later in September two fiyadeens attacked 16 Cavalry unit of army in Jammu in which an officer was killed.
During the same time, 30-odd heavily-armed terrorists tried to infiltrate from Keran sector in the Valley. The Keran operation lasted for over a fortnight in which five Indian soldiers sustained bullet injuries.
Besides, infiltration and ceasefire violations, Modi may also raise the critical issue of terror camps supported by Pakistan military. According to Military Intelligence sources, at present, there are 42 training camps active in PoK out which 22 are close to the LoC.
"Pakistan prime minister has to be apprised of our concerns at the border. Infiltration, ceasefire violations and mushrooming of terror camps are the key issues which could be raised during the meeting," said a senior army officer.
The cabinet secretary and home secretary had last week briefed PM-elect Modi on internal security and the situation on the LoC.
Meanwhile, widow of martyred soldier Hemraj (who was beheaded) has criticised India's decision to invite Nawaz Sharif for the new government's swearing-in ceremony.
"Sharif should either bring the head of my husband or should publicly condemn the barbarous act of Pakistani soldiers who had beheaded him," Dharmvati, the widow of Hemraj, reportedly said.
Lance Naik Hemraj was killed and beheaded by Pakistani soldiers on January 8 last year in Poonch sector of Jammu and Kashmir.
Killings at border
January 2013—Two soldiers killed and then beheaded in Mendhar sector.
August 2013—Five troops were killed in Poonch by a BAT action of Pakistan army and militants.
September- A military camp in Samba sector in Jammu was attacked killing an officer.
September- Heavily armed militants backed by Pakistan army engaged in a massive gun battle with Indian troops in Keran sector, which last for 15 days. Five Indian soldiers sustained serious bullet wounds.
Infiltration attempts at LoC
Attempted Successful
2006 573 343
2007 535 311
2008 342 57
2009 485 114
2010 489 95
2011 247 52
2012 264 121
2013 270 90
4. Ceasefire violations of 2013
Jan- 20; Feb-04; may-08; June-10; July-11; Aug-56; Sept-49; Oct-81; Nov-07; Dec-01
Total -247