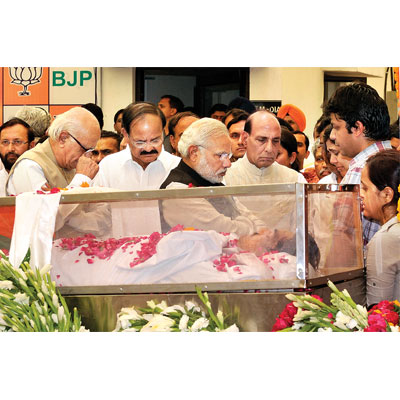 The CBI will probe Union minister Gopinath Munde's death in a road accident in Delhi earlier this month. Though the agency is yet to receive formal communication from the government, the home ministry has recommended handing over the probe to the CBI. The agency has agreed.
The home ministry took the decision after Maharashtra BJP chief Devendra Fadnavis met Union home minister Rajnath Singh along with transport minister Nitin Gadkari. "It is the opinion of the people of Maharashtra that Munde's death should be probed by the CBI," Fadnavis told Singh. NCP chief Sharad Pawar too had asked PM Narendra Modi to initiate a CBI probe into the accident.
As per procedure, the home ministry will write to the department of personnel and training, under the PM's office, which will issue a notification stating that the CBI would probe the matter. The CBI would take over the FIR registered by the Delhi Police. "We will take over the case. However, we have not received any formal communication," a senior CBI official said.
Munde, 64, was travelling to the Delhi airport when his car was hit by another vehicle at Prithviraj Road-Tughlak Road on June 3. He died of shock and hemorrhage following injuries to his neck and liver.