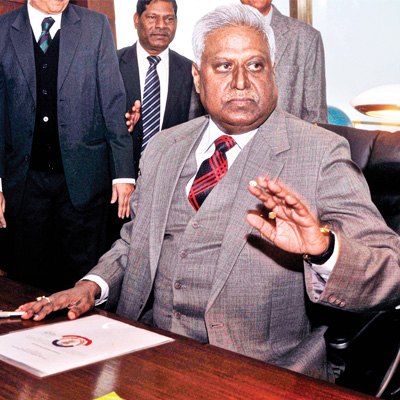 CBI chief Ranjit Sinha has failed to make an international debut for India as Interpol's secretary general as the executive committee of the international police organisation selected Germany's super cop Juergen Stock as the successor to incumbent Ronald K Noble of the United States.
Sinha, the first Indian to be shortlisted for the post of secretary general, had appeared in the interview at Interpol's headquarters at Lyon, France, on Tuesday evening along with a candidate each from France, Germany, Italy, Jordan and the United Kingdom.
Sinha, one of the senior-most IPS officers in the country, nominated himself as contender for the post, when Interpol invited applications in January after Noble announced that he would step down after almost 15 years at the helm of the world police body. Home ministry was also quick in clearing Sinha's candidature.
As per the procedure, Interpol would now submit the candidacy of Stock to its supreme governing body, the general assembly, for endorsement when it meets in Monaco in November. If endorsed, Stock would assume office when Noble steps down in 2015.
"It is essential that Interpol's leadership offers the best services and expertise to its member countries as we face new challenges in fighting transnational crime together, and that it supports the skills, tools, resources and capacities of national central bureaus to carry out our shared role effectively," said Alan Bersin, vice-president of Interpol, who chaired the selection process.
Bersin said Stock has a distinguished career in policing and fighting crime at the international level and the committee has confidence in his ability to take the organisation forward.
The executive committee that cleared Stock's candidacy has members from the United States, Canada, Chile, Italy, the Netherlands, Finland, Japan, Korea, Nigeria, Algeria, Rwanda and Qatar.
Since 2004, Stock has been vice-president of the German Federal Criminal Police. He has previously served as vice-president for Europe on Interpol's executive committee. He is the founding member of the Global Initiative Against Transnational Organised Crime and has served as co-chair of the European Security Research and Innovation Forum (ESRIF) of the European Commission. Stock is also honorary professor for law and criminology in the faculty of law of the University of Giessen.