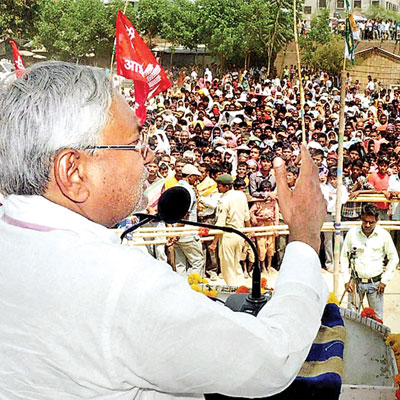 Once called the "spice bowl" of Bihar, the Samstipur, Ujiarpur, and Dharbhanga stretch are today empty swathes of abandoned land. Mired in poverty, the natives have abandoned their fertile lands to migrate to cities and metros in other states for an alternate means of livelihood. The region, with its network of rivers that criss-cross every 5-6km, could among the most prosperous in terms of land fertility, instead the absence of any system of forward and backward linkages means that there are frequent floods, making agriculture a pricey proposition.
Surprisingly, neither the candidates nor their supporters are touching the issue in their speeches, as election campaigning here gathers a feverish pitch. Instead, caste and communal issues override economic and agricultural ones, which have the potential to turnaround the state's fortunes.
Darbhanga, Samastipur and Ujiarpur go to polls on May 30. The battle in Darbhanga is between BJP heavyweight Kirti Azad, RJD's Ashraf Ali Fatmi and JD (U)'s Sanjay Kha. In Samastipur, the Congress has fielded Ashok Ram while Ram Vilas Paswan's brother Ram Chander Paswan is standing for BJP-LJP. The JD(U)'s man in the fray here is Maheshwar Hazari. The Ujiarpur contest is between BJP's Nitranand Rai and RJD's Alok Mehta.
Circumstances seem to be favouring the RJD. A resurgent Lalu Prasad Yadav, riding on a sympathy wave for spending months in jail after his conviction in fodder scam case, has re-stitched his Muslim-Yadav combination. Mukesh Yadav, a shop owner in Ujiarpur, who was fed up with Lalu's rustic rhetoric and had abandoned him in the 2009 election, is moved by the RJD leader's conviction. He doesn't believe Lalu was wrong in taking money out of the treasury for his own gains.
The RJD and the BJP both stand to benefit from the plummeting fortunes of the JD (U). Tea stalls conversations revolve around the development that has been made possible by Nitish and the "bad dream" that people lived through under his predecessor Lalu and his wife Rabri Devi, in terms of security, law and order and administrative responses. But eventually, the discussion boils down to caste configurations.
Naveen Chander Sharma, a headmaster in a higher secondary school in Tiswara village, 20 km form Samastipur town, points out that he had just six teachers for 2,600 students during Lalu's regime. But thanks to Nitish's focus on education, the number of teachers has increased five-fold to 30 for the same number of students.
The small ground in front of the village school resembles a cycle stand. A government scheme to give a cycle to every student with 75% attendance in class 8 and beyond has increased enrollment by 50 %and reduced dropout rates by more than 30%. "These are positive measures. But there is another side too. We have been given computers, but we don't have electricity. A generator was provided last year, but the school is not allowed to use its funds to purchase diesel. The computer lab is idle for want of power while the generator is gathering rust," said Sharma.
Despite his development works, Nitish finds his back to the wall. Social scientist and former professor, Sachidanand Singh, says that Nitish's over-dependence on bureaucracy and ignoring political linkages with the general public will cost him.
A teacher, Navendu Priyadom, says that politicians have little voice at the district level in the JD (U) government, unlike in the RJD regime. Priyadom said that the JD (U) government did inculcate a sense of security and safety and focused on improvement of education, but there was no thrust beyond that. "He didn't take any economic initiative. Even in education, the focus has been on quantity and enrollment, but quality has suffered."
The BJP has gained a solid upper caste backing. Nitish may have to remain content with the support of Koeries and Kurmis, roughly seven per cent of the state's population. Social scientist here say both the BJP-LJP combine and the RJD-Congress alliance have an identical, fixed base and their fortunes will depend on the incremental gains they make till the last vote is polled.