Delhi CM begins dharna demanding action against cops who refused to raid an alleged prostitution racket.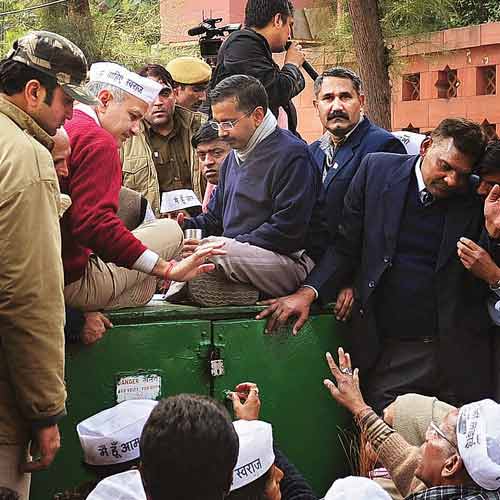 In defence of his law minister Somnath Bharati's antics, Delhi chief minister Arvind Kejriwal assumed the role of chief agitator on Monday. He and his ministers chose to sit on dharna near Rail Bhawan, a high security zone, and the venue for Republic Day which is just six days away. He declared that he will continue to be on dharna for next 10 days, till Union home minister Shinde does not suspend three SHOs.
His dharna led to inconvenience to thousands of aam aadmi (common man) as three key Metro stations — Patel Chowk, Central Secretariat and Udyog Bhawan — were shut for most of the day, though Patel Chowk station was opened towards the evening.
Kejriwal declared, "I am an anarchist. There is disorder everywhere, inflation is hurting everyone; now we want disorder in the house of the home minister."
Kejriwal wanted to sit on dharna outside the home ministry at North Block, but they was stopped by Delhi Police near Rail Bhawan roundabout. The Police had imposed section 144 in the area that prohibits assembly of more than five people. Kejriwal had demanded suspension of three SHOs (Station House Officers) for not doing their duty properly. Kejriwal chose these theatrics to highlight that Delhi Police is not under his government.
Kejriwal invited Delhiites and even policemen to join his dharna, even though he had on Sunday evening asked people not to join the demonstration in view of the Republic Day preparations. The party sources believe Kejriwal's move to sit on dharna is a masterstroke as it highlights that Delhi Police is not udner Delhi government and at the same time also puts pressure for giving Delhi Police's control to Delhi government.
"It is important to understand why the chief minister of Delhi had to protest. We are not doing it for our sake. In Delhi, police takes money from autowallahs. Today we are standing here for them. In Delhi, the police takes money from street vendors. Today we are standing here for them," said Kejriwal when the dharna started.
He said he respects Delhi's Lieutenant General Najeeb Jung who has set up an enquiry into Thursday night's police raid incident but we want suspension or at least transfer of those officials involved.
"Women (in Delhi) keep on getting raped. Police says investigation is on but that is not enough. If a rape happens someone has to be held accountable," he added. Till evening Delhi chief minister was sitting at the spot and in the morning itself he had cleared that he is ready to sit at dharna for the next 10 days.
Kejriwal also flashed letters from Uganda's high commission in Delhi claiming that they had praised his government's action stating that women from Uganda are being trafficked on pretext of getting them jobs and are being pushed into sex trade.
The AAP, in a separate press conference, distributed the letter to media. The letter written in June 2013 by defence advisor at the Uganda's HC in Delhi talks about one particular case.
Journalist-turned-politician Ashutosh had initially claimed that it was the defence advisor who had met Delhi government's law minister Somnath Bharti and gave him the letter. But AAP later clarified the letter was given by a woman working at the Uganda HC who had met Somnath Bharti.
They, however, refused to identify the official.
But ministry of external affairs claimed that there were no officials at the Uganda's high commission at present and that HC officials have not written to Delhi government on the issue.
Kejriwal was seen looking at official files at the dharna venue probably to escape criticism that he is ignoring his duties.
Meanwhile, Kejriwal came under sharp attack from various parties for leading a dharna, with outside supporter Congress saying a government cannot be run from the streets and opposition BJP terming the protest as "anarchic" and wondering if AAP was aiming to "wreck" the system from within. The BJP also hit out at Congress for its "misjudgement" in supporting AAP due to which Delhi was paying the price. Union Home Minister Sushilkumar Shinde asked Kejriwal to maintain the dignity of the office he holds.
Also, the "countdown" for AAP government in Delhi has begun, the Congress said on Monday in the wake of protest by Arvind Kejriwal.
"Countdown has begun by the way Kejriwal has started all this. Government is run from the secretariat and not from the streets," party spokesman Meem Afzal said. "They should end the habit to be on streets after getting power. You cannot perform the role of the opposition while being in power", he told reporters at the AICC briefing.